Rubus echinatus – Series Radulae
back to Alphabetical index · Taxonomic index
This species has a core range covering most of central and southern England and is also widespread in western Europe. Once seen a few times it becomes instantly recognisable by its distinctive deeply and sharply-toothed leaves. It is a medium to tall-growing species occurring usually as single bushes or small patches in semi-shade on heathlands, in scrub, hedgerows and woodlands.
Flowers are typically pale pink as above, but unusually pure white (with a yellow tinge at the base) in my local Gosport populations. The petals are almost symmetrically elliptical, fairly broad, at least 15mm long. They are slightly concave and have a smooth, shell-like or porcelain-like quality. Sometimes there is a shallow notch at the tip. Stamens exceed the yellowish-green styles. There are often single leaflets below the head of the panicle, and these are deeply and coarsely serrate like the stem leaves, making the species almost instantly recognisable.
The rachis is pubescent with numerous small gland-tipped acicles about the same length as the hairs, and long, fine prickles.
Sepals are also covered with tiny red-tipped glands. They have long, leafy points, which reflex sharply downwards after flowering, exposing bright red on the fold.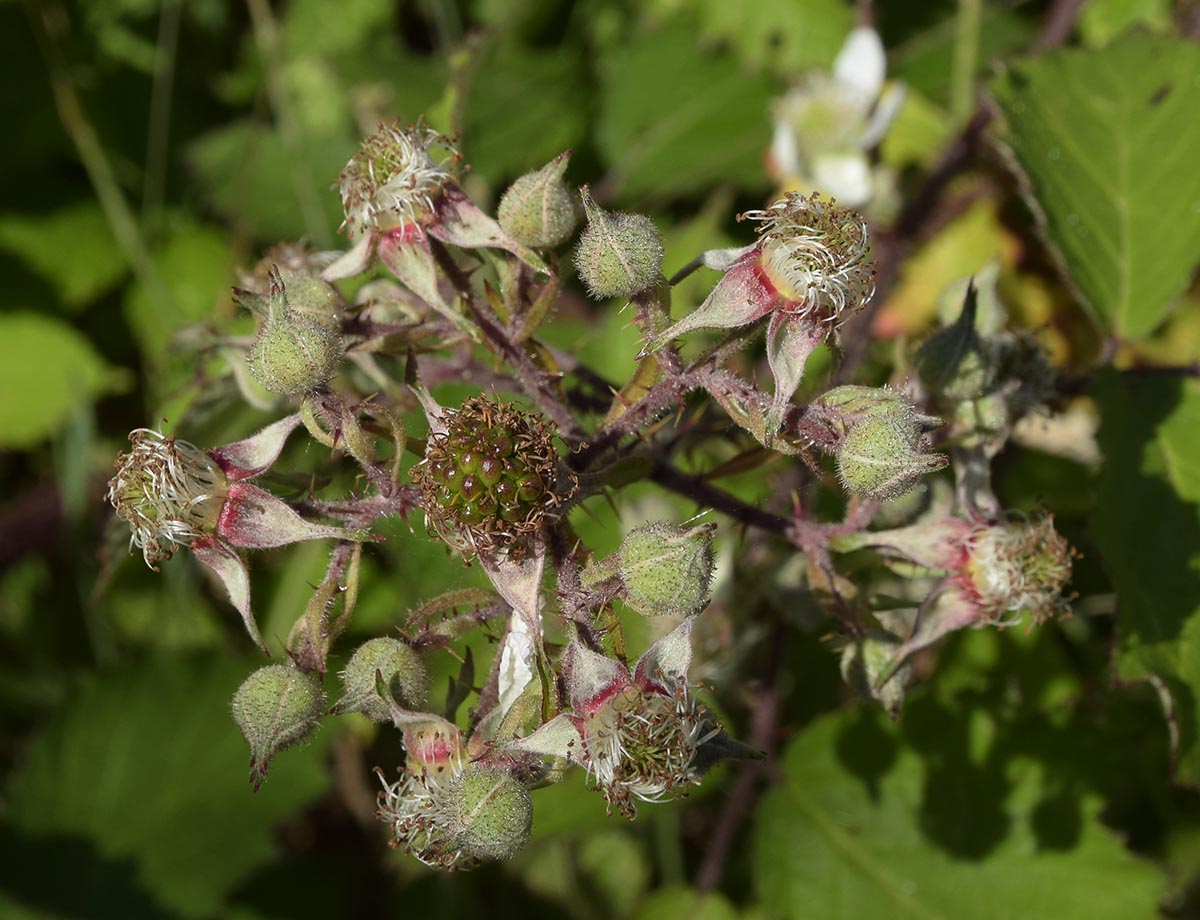 The leaves are described as incised in bramble terminology, i.e. deeply and irregularly toothed (in fact lobed and then serrate), but also with strongly crisped margins. They are very distinctive, although they do resemble several other species, including R. dentatifolius.
The terminal leaflet is often rhomboid in shape and does not have a distinctly differentiated tip (the tip more or less follows the curve of the upper part of the leaflet).
Leaflets are thickly grey-felted below, especially when young and when growing in open, sunny conditions.
This leaf clearly shows the lobing with serrations superimposed.
The stem is typical of certain Radulans in that it is covered by hairs and short gland-tipped acicles of about the same length, giving it a rough feel to the touch. It is often deeply grooved and ridged. The much larger prickles are mainly on the angles and have yellow points. Density of hairs can be slightly variable. Stems turn maroon or dark purple in strong sun.