Rubus surrejanus – Series Vestiti
back to Alphabetical index · Taxonomic index
A white-flowered species with a distinctive broadly ovate or nearly round terminal leaflet, which is not grey-felted below. It is rather similar to the white-flowered form of Rubus vestitus, but occurs mainly on acidic rather than calcareous soils. It is a British endemic, named after the county of Surrey, where it was formerly concentrated, but the 2004 Atlas shows it to have spread much more widely, reaching south Wales and the east Midlands. It sometimes dominates large areas, e.g. in secondary woodland.
The flowering panicle is often large with numerous side-branches and a broad, truncate cluster of flowers at the apex. The flowers are medium-sized (c.2.5cm diameter), with broadly elliptical white petals (c.11 x 7mm), which can be pale pink in bud. The petals are slightly concave, giving a somewhat 'cupped' appearance to the flowers. They are often crumpled or contorted (sometimes with an erose apex) and seem to be dropped quickly so that inflorescences often look 'scruffy' in appearance. The sepals are long-pointed and either reflexed with ascending tips or patent at flowering.
The rachis is nearly straight, pubescent, with numerous fine prickles and few to many short-stalked glands.
The stamens are about level with the styles, or slightly exceed them.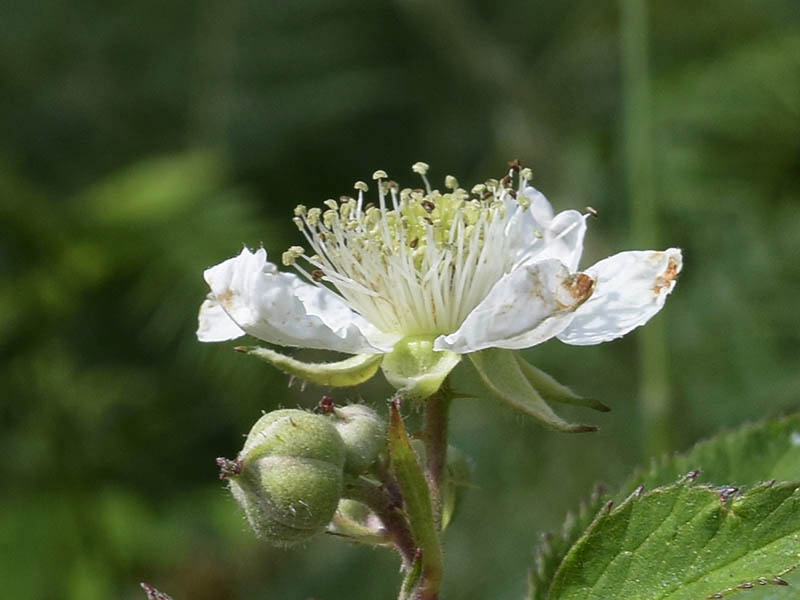 Leaves have 3-5 leaflets which are a distinctive dull yellowish-green in colour, thick in texture, sparsely hairy above and softly downy below, but not strongly grey-felted, as in Rubus vestitus. The terminal leaflet (7-9cm long) varies from slightly ovate, to round or slightly obovate in shape, with a short, broad apex which is often twisted or asymmetric. The base is emarginate to shallowly cordate. The two sides often fold inwards slightly. The margin of the leaflets is irregularly serrate (usually shallowly so) and undulate.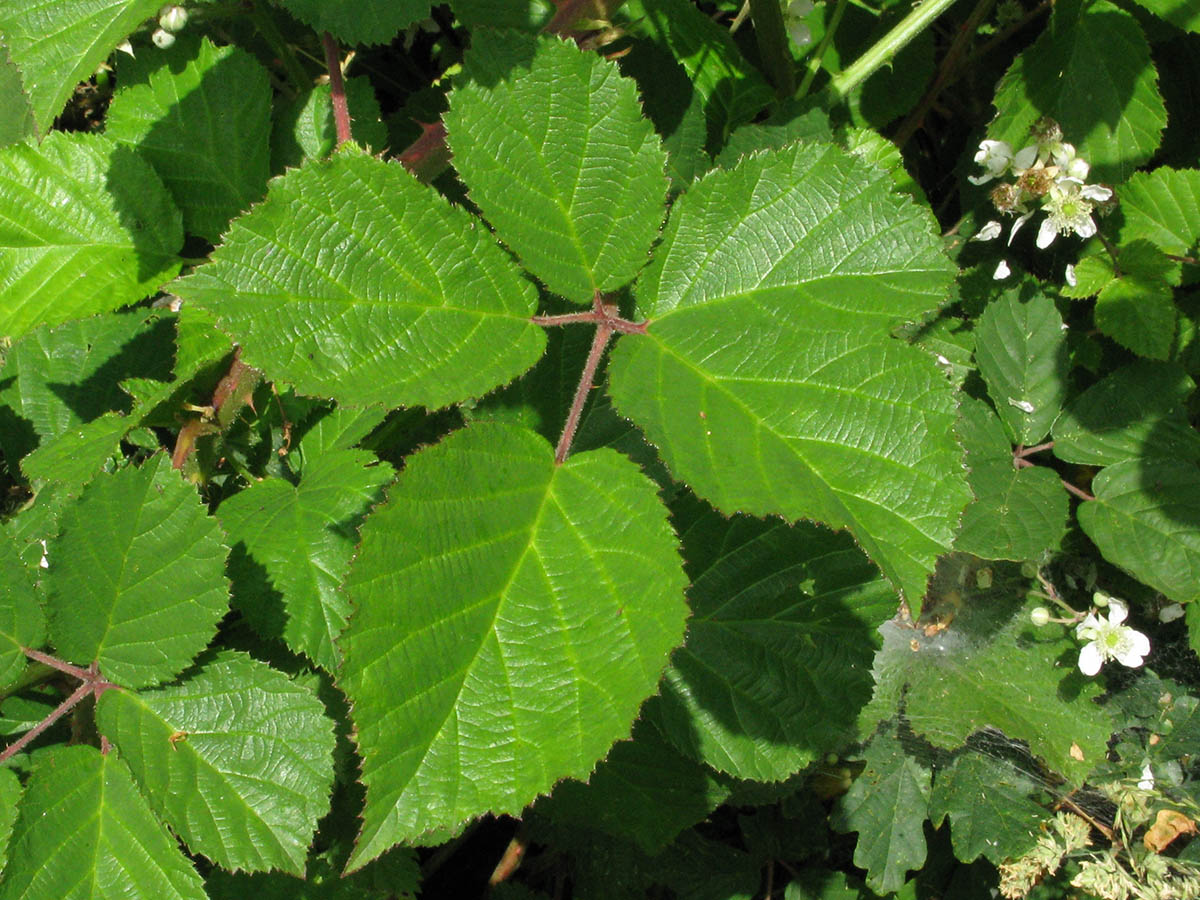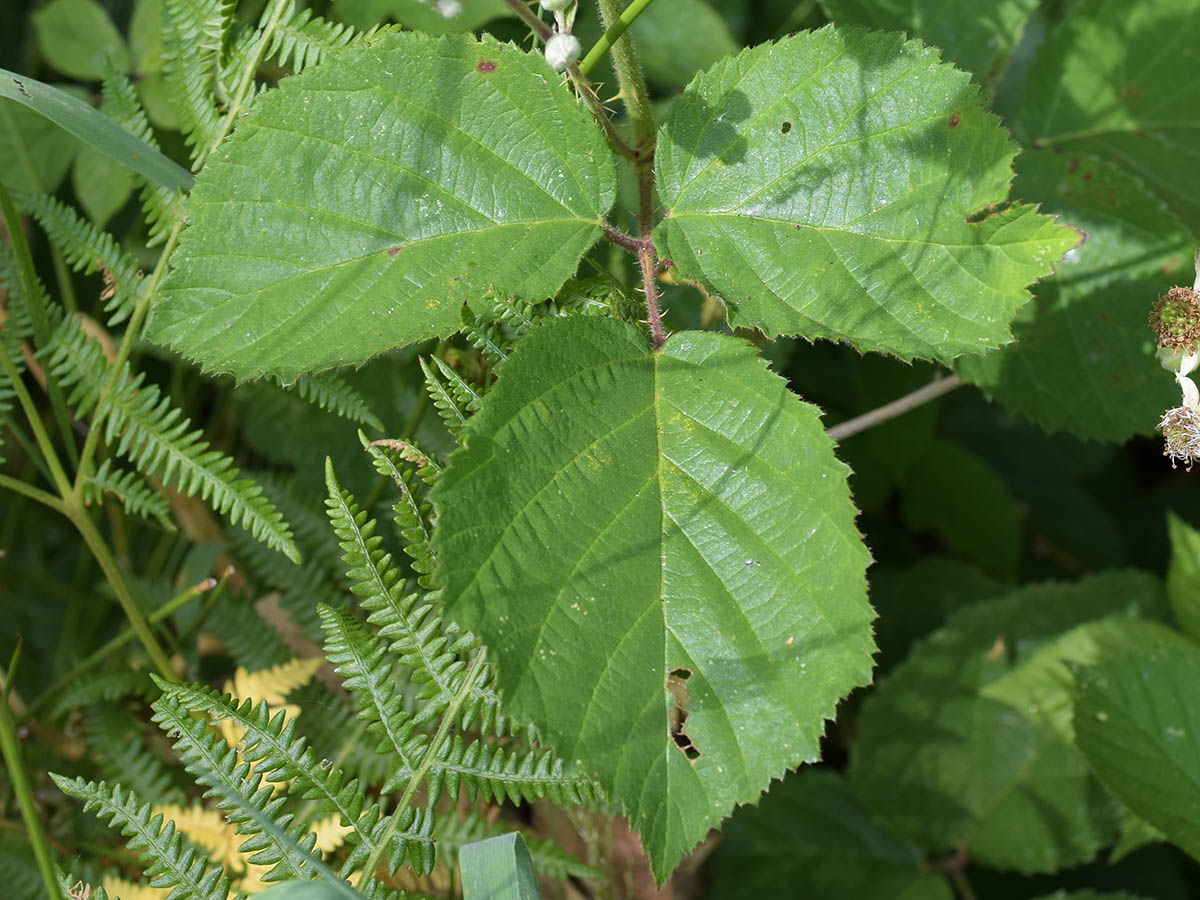 Note the non-felted or slightly felted appearance of the leaflet underside.
The first-year stem is bluntly angled, green or turning reddish. It is shortly hairy with scattered short-stalked glands and acicles. The prickles (mainly on the angles) are usually shorter than the stem diameter and patent but can be moderately long and declining in some plants.
The close-up below shows the short acicles.