Rubus rossensis – Series Discolores
back to Alphabetical index · Taxonomic index
This is a robust, often tall-growing species with large pink flowers and yellow-green foliage. The flowers are similar to those of Rubus armeniacus but the leaves of R. rossensis often only have three leaflets which are distinctly convex and more deeply felted below. They look rather flat and dull above, as if they have been ironed, but the veins are still prominent. The stem, rachis and floral branches are densely hairy. This is a British endemic, recorded from south Wales, the Welsh borders and south-west England as far east as south Hampshire, but it may be increasing.
The panicle is broadly cylindrical with a truncate top, a flexuose (zigzag) rachis and stout, widely spreading branches. Ascending lower branches are sometimes also well developed. The uppermost single leaves are heart-shaped; those further down are 3-foliolate and they all curl over slightly. The densely pubescent rachis is armed with long, slightly declining prickles. Usually a few very short-stalked glands can be found at the top of the rachis and on the floral branches.
Flowers are c.2-5-3cm across with cupped bright pink to deep rose-pink petals (though sometimes faded), which are broadly elliptical to almost round, c.15 x 12mm and contiguous. They are sometimes toothed or frilly around the margin and crumpled. Styles are deep pink at the base, becoming creamy yellow at the apex. The stamens are about equal to or just exceed the height of the styles. The filaments are usually deep pink or red at the base (visible in the photos below) and paler pink above.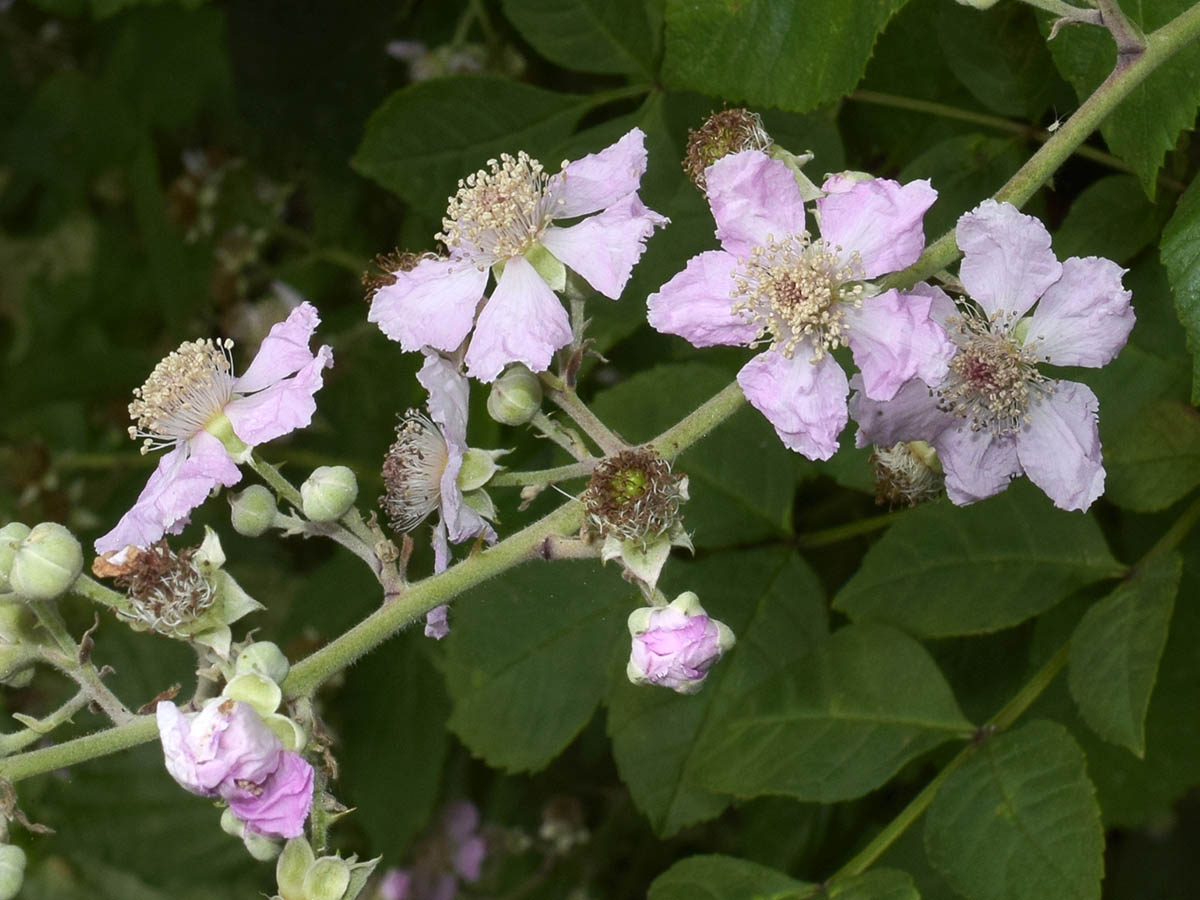 Leaves have 3-5 leaflets, or often 3 leaflets with lobes or budding leaflets at the base. The terminal leaflet is rotundly obovate, c.8 x 6cm, glabrous to very thinly hairy above with a shortish apex and an emarginate base. Margins are rather shallowly and bluntly toothed. The shape and shallow toothing of the leaflets, combined with the distinctive yellow-green colour, well-marked veins and convex or curled over appearance make the leaves easily recognisable in this species.
Leaflets are whitish-felted below but those growing lower down in shade are usually yellowish or pale greenish in colour.
The stems are bluntly angled and slightly furrowed. They turn greenish-brown to brownish red when exposed to the light and are clothed with abundant short hairs. The prickles are broad-based with fine, long points (subulate), slightly declining or almost patent.