Rubus laciniatus – Series Sylvatici
back to Alphabetical index · Taxonomic index
The Cut-leaved Bramble is the only species with strongly lobed and dissected leaflets, making it instantly recognisable. It is believed to be genetically related to R. nemoralis. The three-lobed pale pink petals are also unique. Although usually described as being of horticultural origin (and still sold in garden centres), this is not strictly correct as it is likely that it was originally discovered growing naturally in the wild as a genetic oddity and subsequently taken into cultivation for its attractive appearance. According to the famous batologist WCR Watson it was first mentioned in British garden literature in 1754, but it was not named until 1809. It currently occurs naturalised in the wild throughout the UK (and can be somewhat invasive), but is more scattered in the moister climate of the south-west, Wales and the highlands of Scotland. It is still increasing, especially in areas of lightly wooded heathland in southern England, but it is probably also becoming more common in rough ground and brownfield land in and around towns and cities.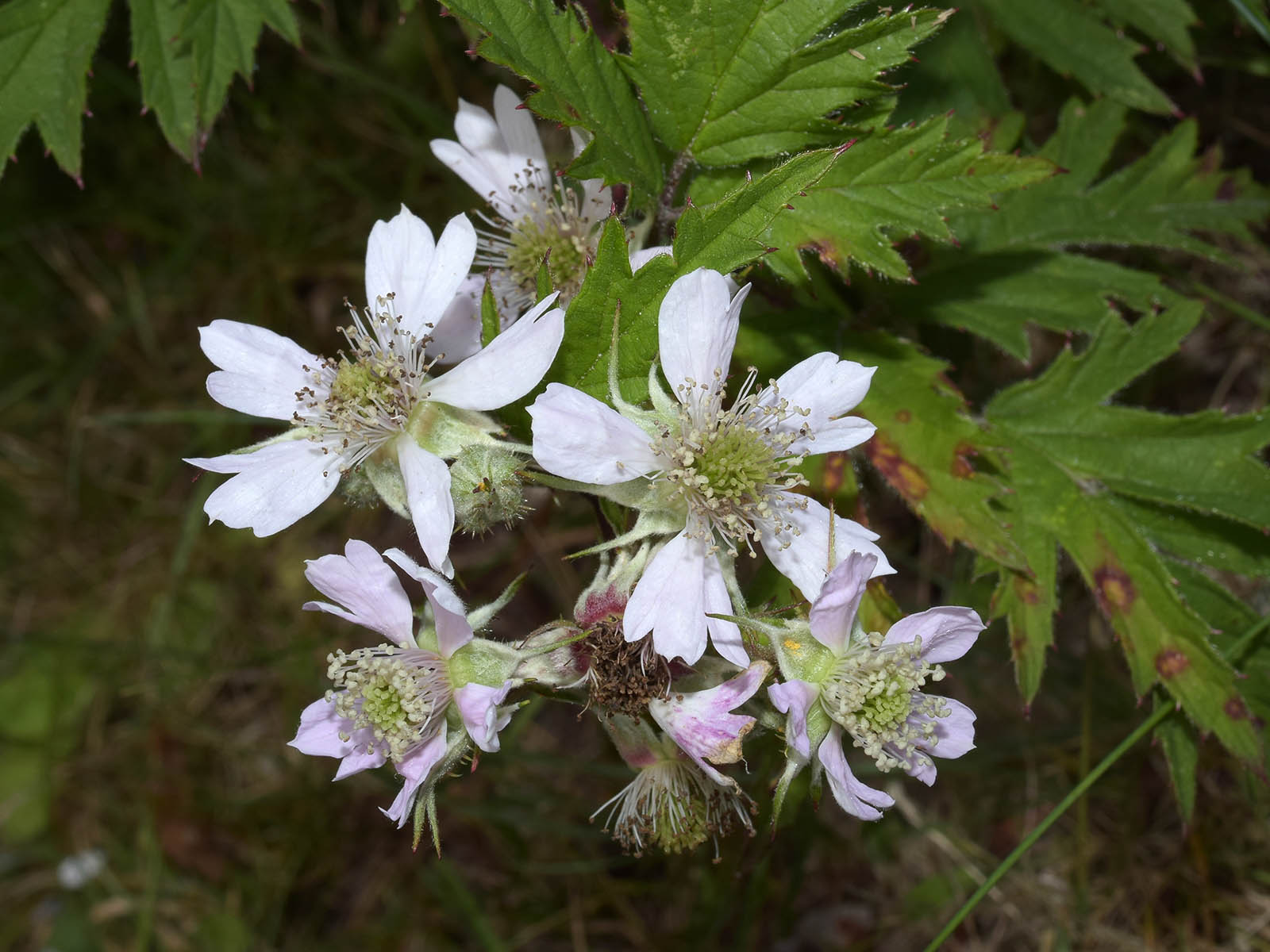 The panicle has a flat-topped head of flowers at the top of a flexuose rachis, with some ascending lower branches which are sometimes developed as secondary panicles. The rachis is hairy with numerous sessile glands and some slender prickles. Sepals are long and leafy-pointed. After flowering they become strongly reflexed and turn red inside at the base. This species does not have any stalked glands.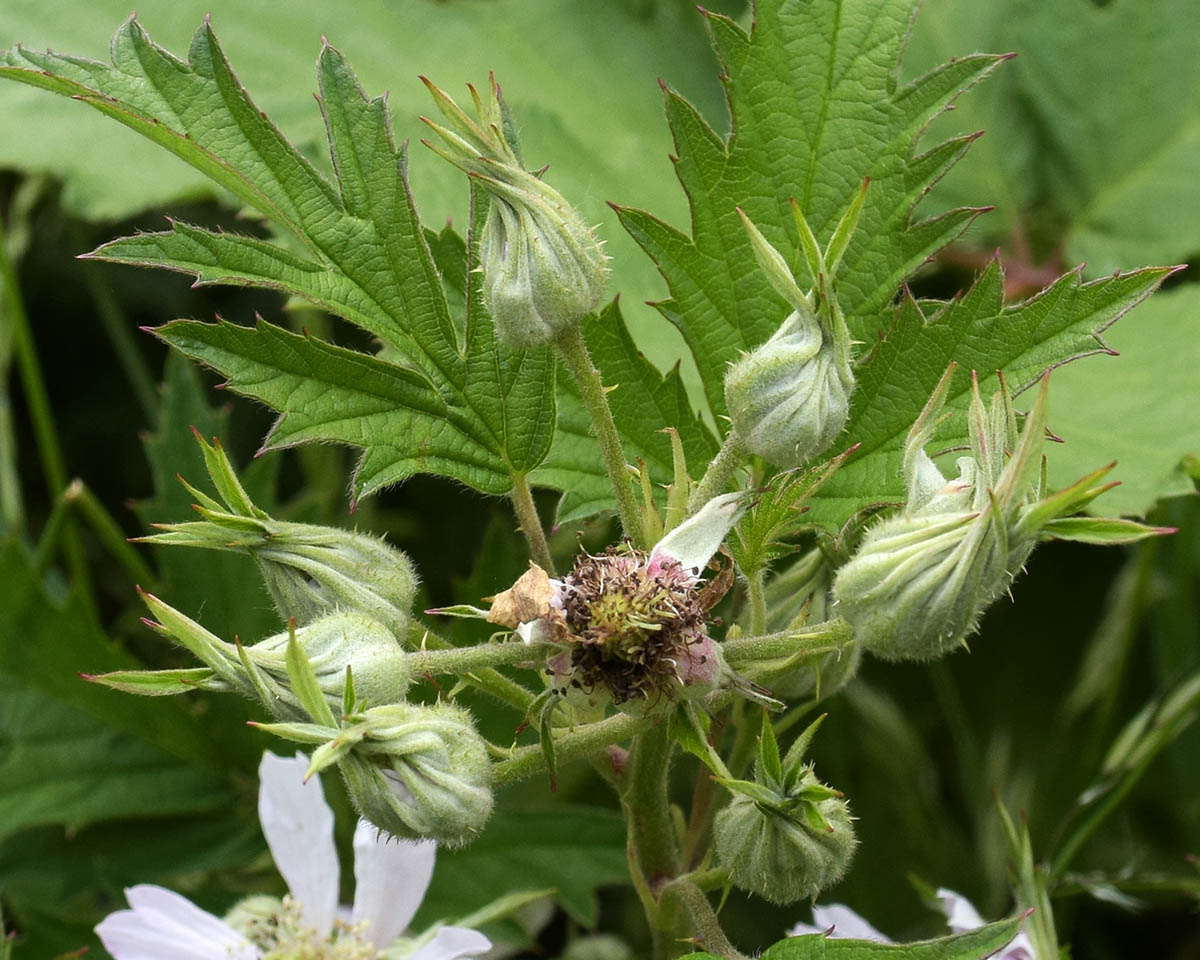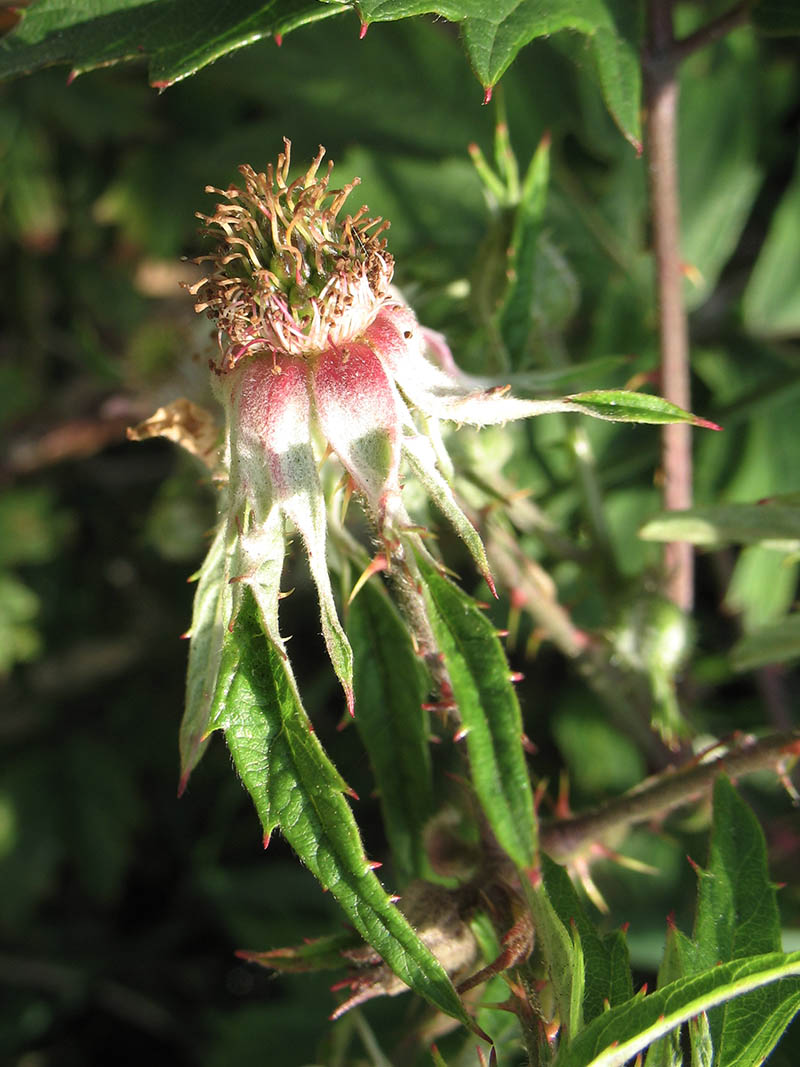 It is very typical to find single small, low-growing bushes on heathland and in open-canopy acid woodland, though large clumps do sometimes develop.
Flowers are 2.5-3cm diameter with pale pink petals (mid pink in bud), which can vary in number. The petals can be unlobed or three-lobed, with the lobes shallowly or deeply divided. Each lobe usually has an apiculate tip. The filaments of the stamens are white (or pale pink, especially at the base) and have glabrous anthers. Styles are greenish yellow.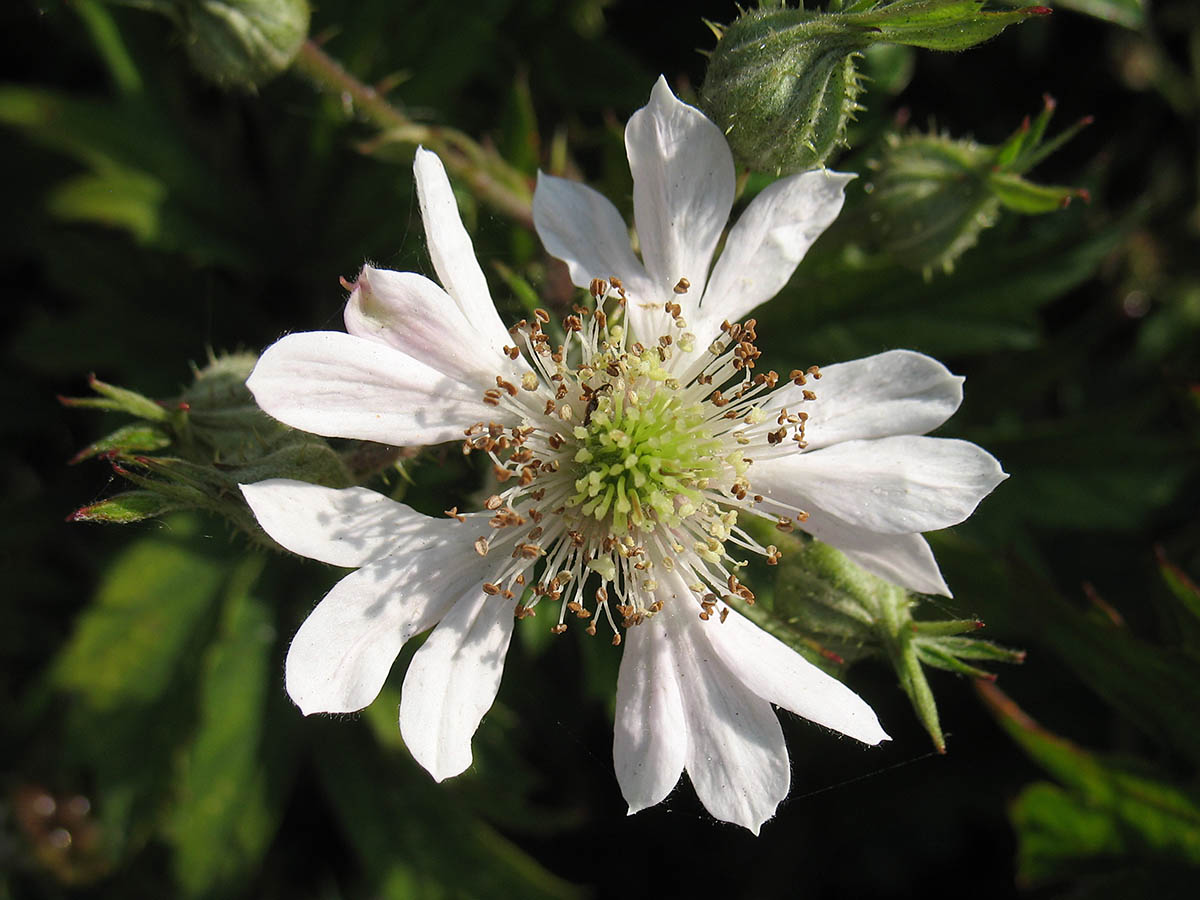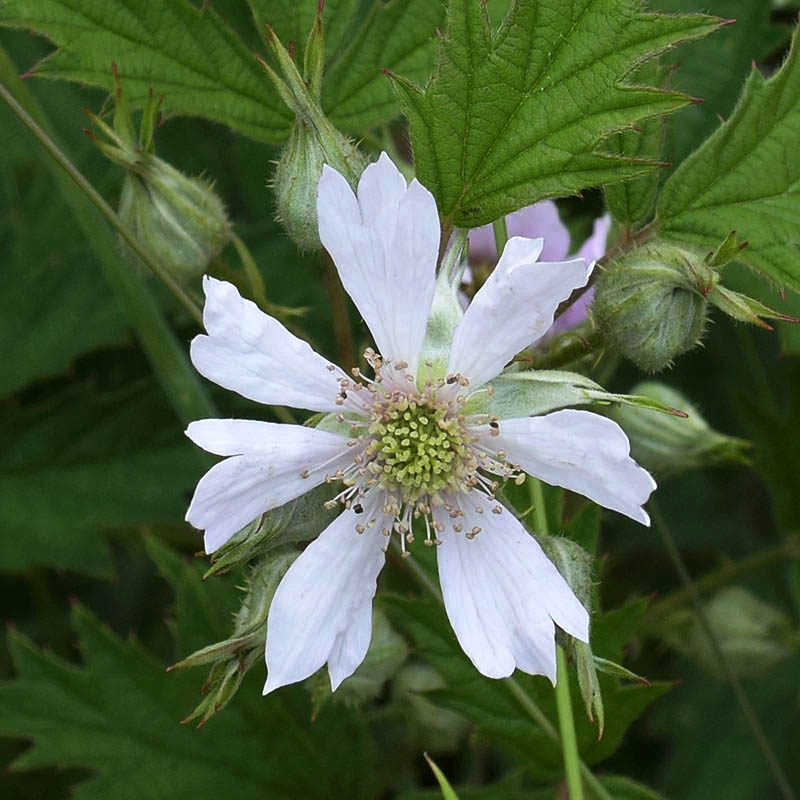 Stamens are about level with or slightly longer the styles.
The Leaves are mid green and rather matt in appearance above and greenish-grey to grey felted below.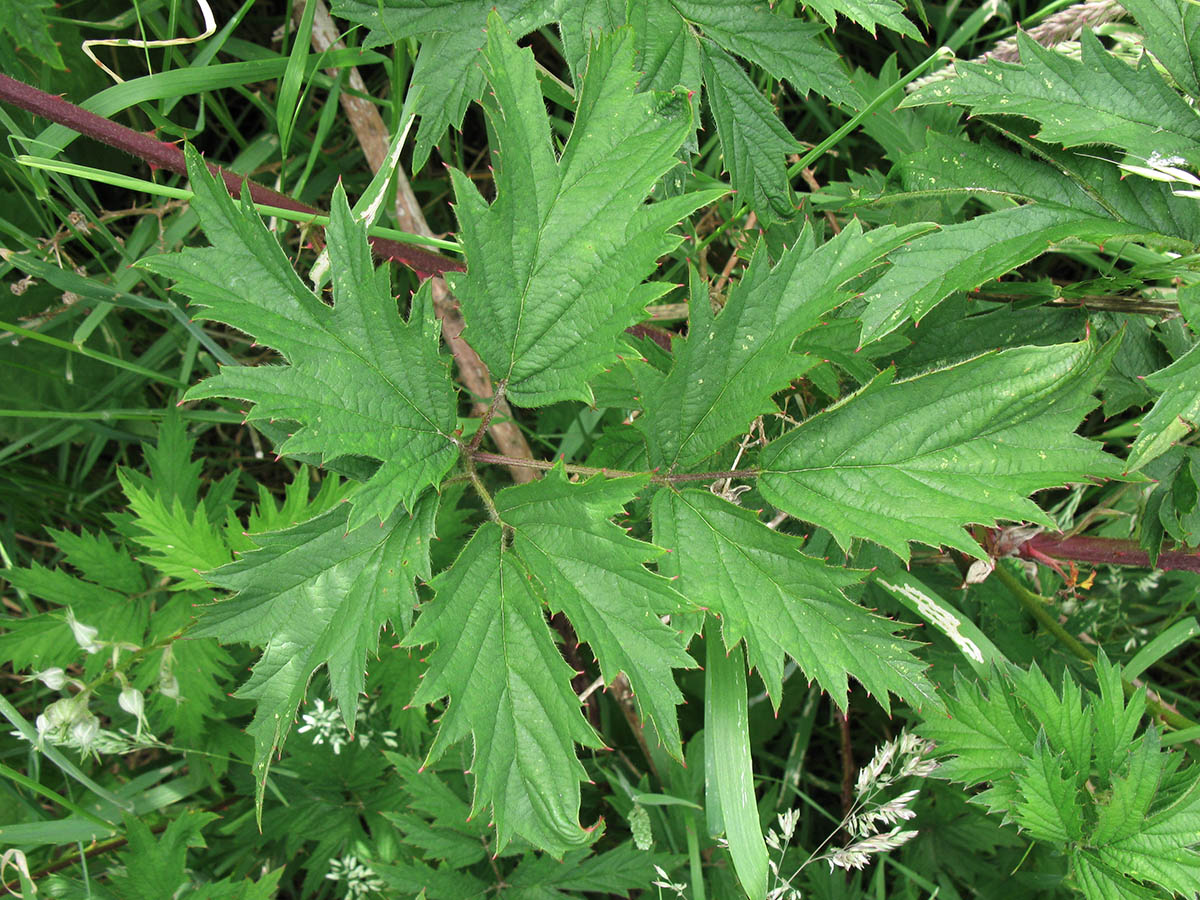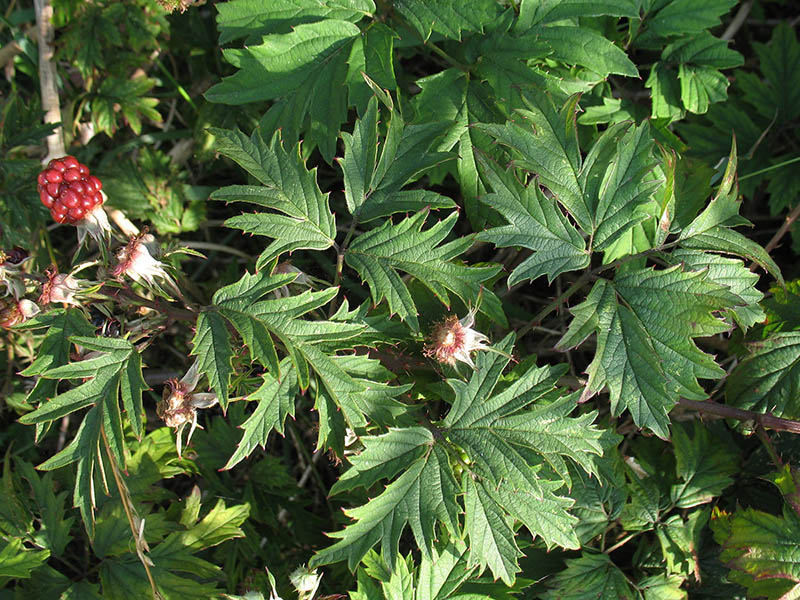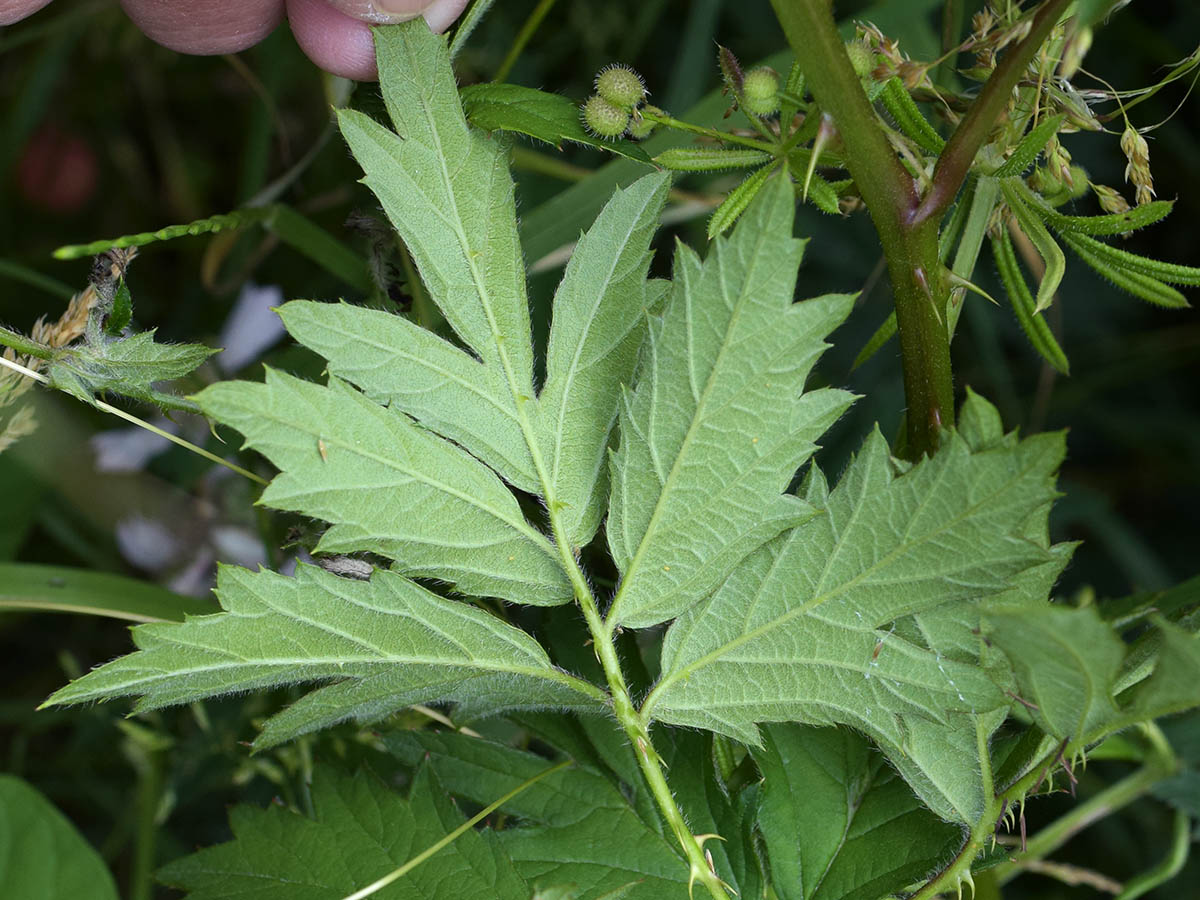 Stems are sharply or bluntly angled, often with at least one furrowed side, turning deep reddish-purple. They are hairy (especially when young) to nearly glabrous with variable numbers of sessile glands. The prickles are moderately stout, with long reddish bases and yellow points, declining or curved, present on the angles and fairly frequent.