Rubus imbricatus – Series Sylvatici
back to Alphabetical index · Taxonomic index
Predominantly a species of southern England, Rubus imbricatus is particularly well recorded from Devon, the Gloucester area, Surrey and Sussex. It occurs in typical bramble habitats on the borders of woods and heaths on acidic soils. Useful identification features include the absence of glands, roundish pink petals and yellow-green leaves with a roundish, rugose terminal leaflet. The leaves especially make it easily disregarded as an unnameable Corylifolian. (These images are only of a single colony photographed in July 2015 at Pound Common, West Sussex.)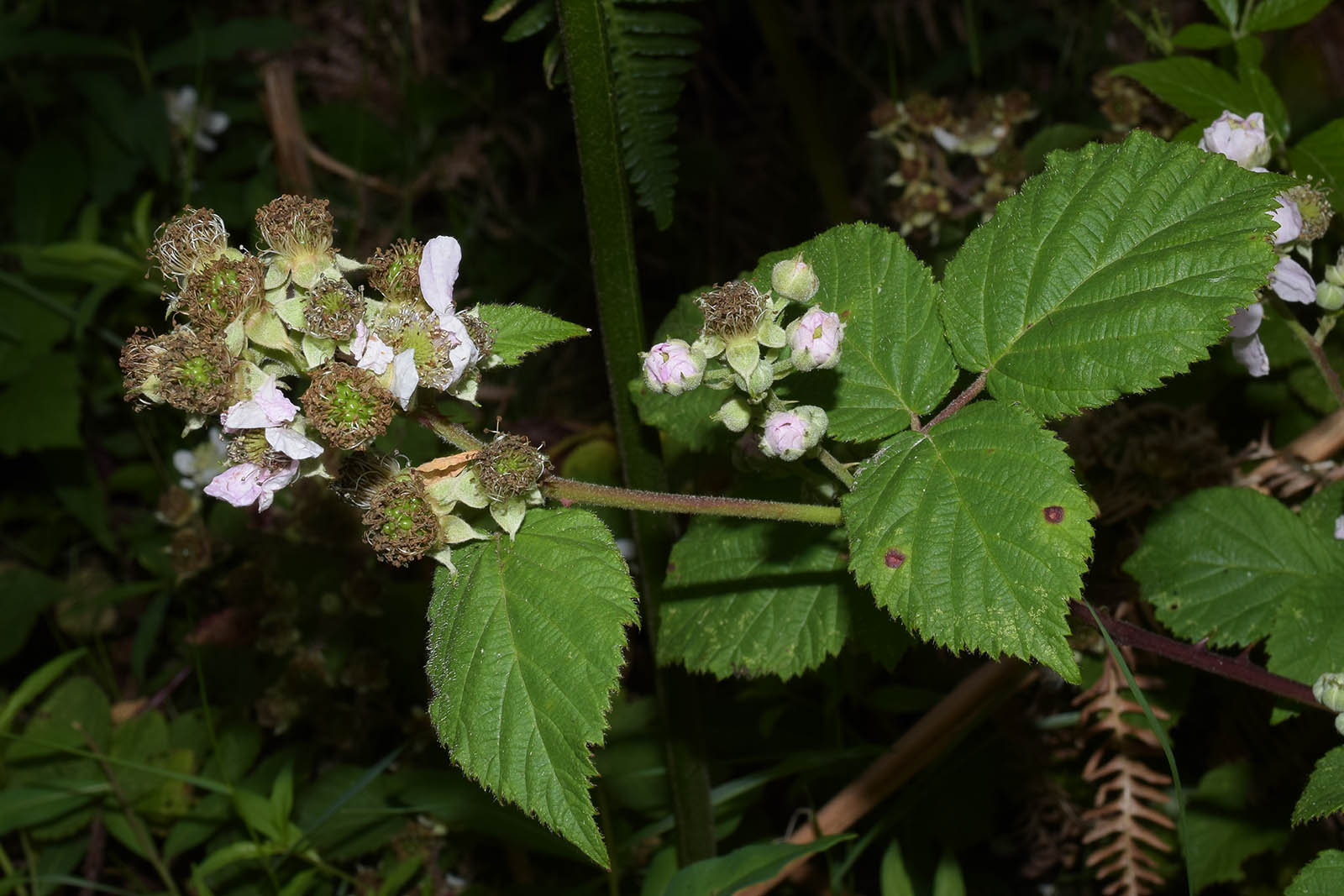 The panicle (above) is narrow, and leafy up to a compact head of flowers. The leaflets (below) are greyish-green felted. There may also be long, ascending lower branches. The rachis is flexuose, turning deep red, hairy especially above and on the pedicels, with only a few declining prickles.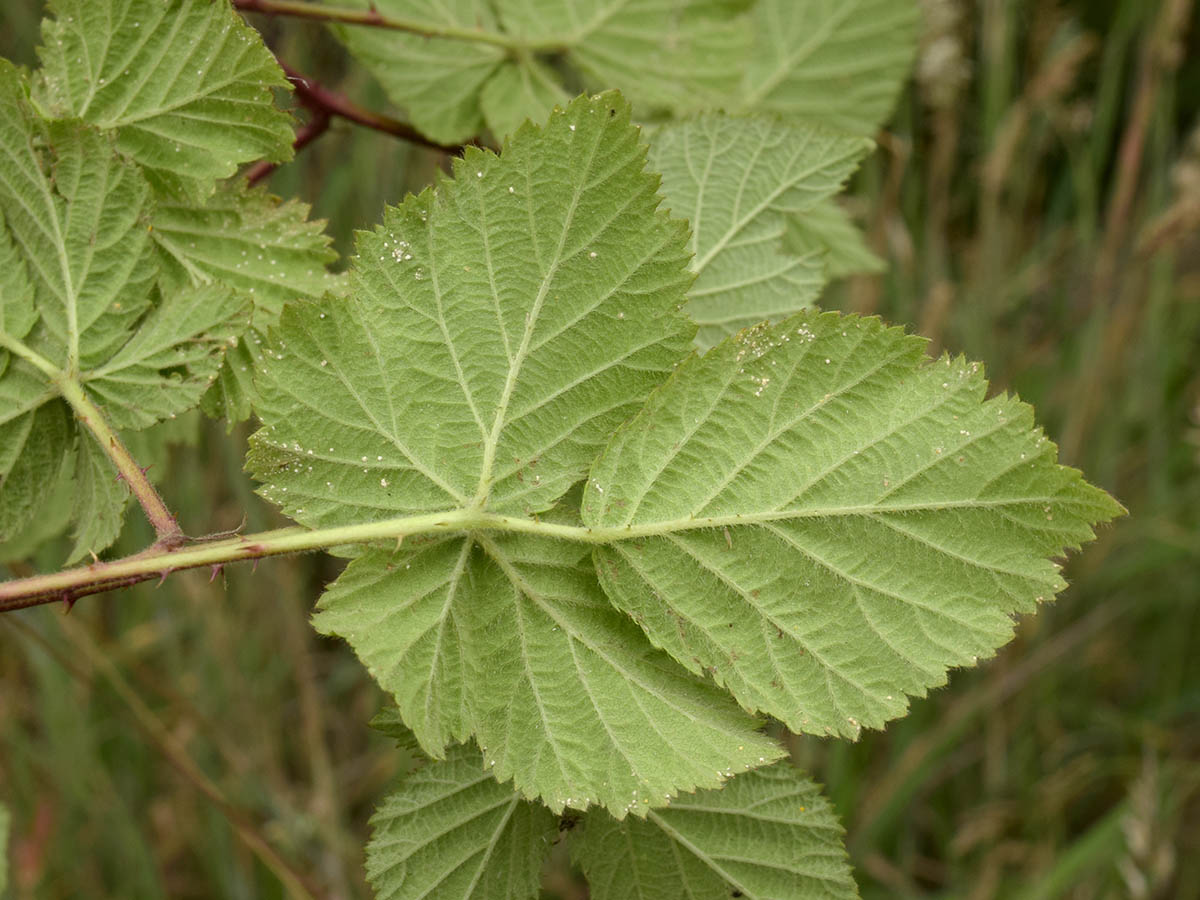 Flowers are about 2.5cm diameter with notched pink, broadly obovate petals, c.12 x 7mm. The sepals are grey-felted with short or long points. Stamens are longer than the styles, which are yellowish or pinkish.
Leaves have 5 or sometime 3 leaflets, which are yellow-green in colour, rugose and rather matt or dull looking. The basal leaflets are sessile and the laterals short-stalked, causing them to become imbricate. The terminal leaflet is roundish but slightly obovate, with a cordate or subcordate base and short to medium length acuminate tip, and is often convex. The toothing on the leaflets is fairly coarse and uneven, and can be moderately incised.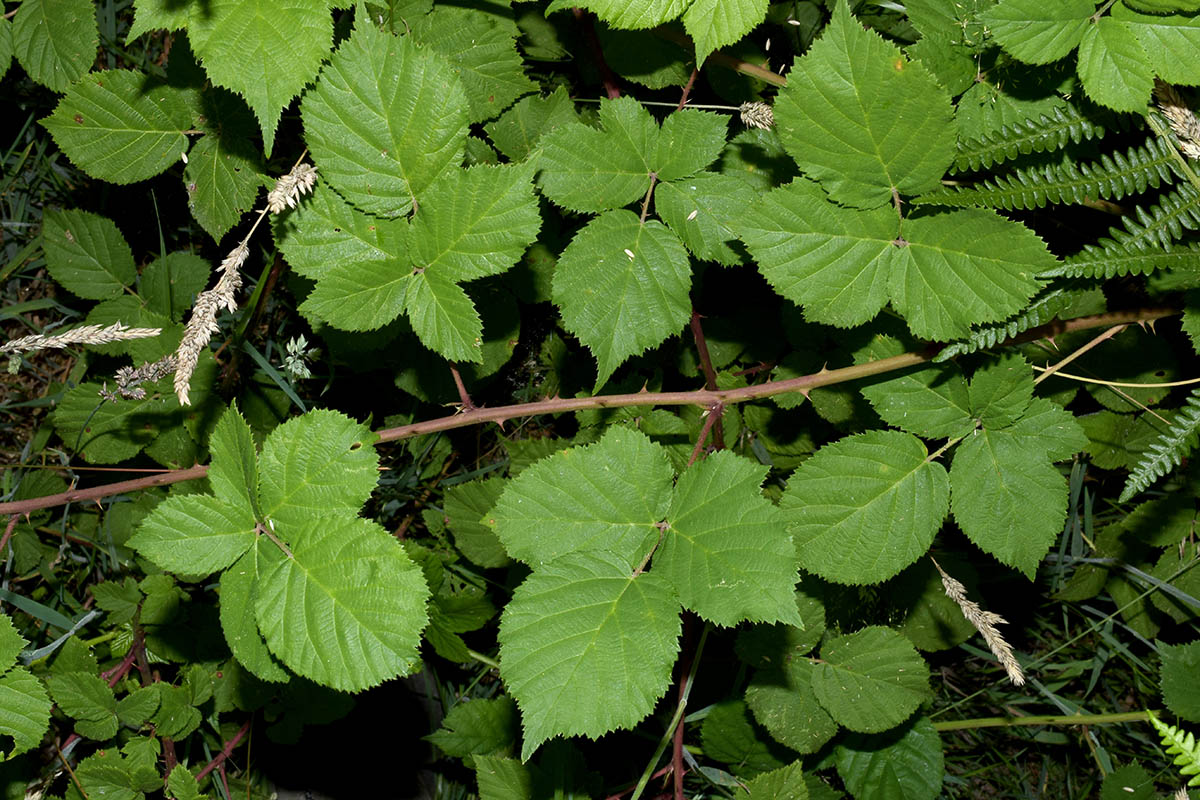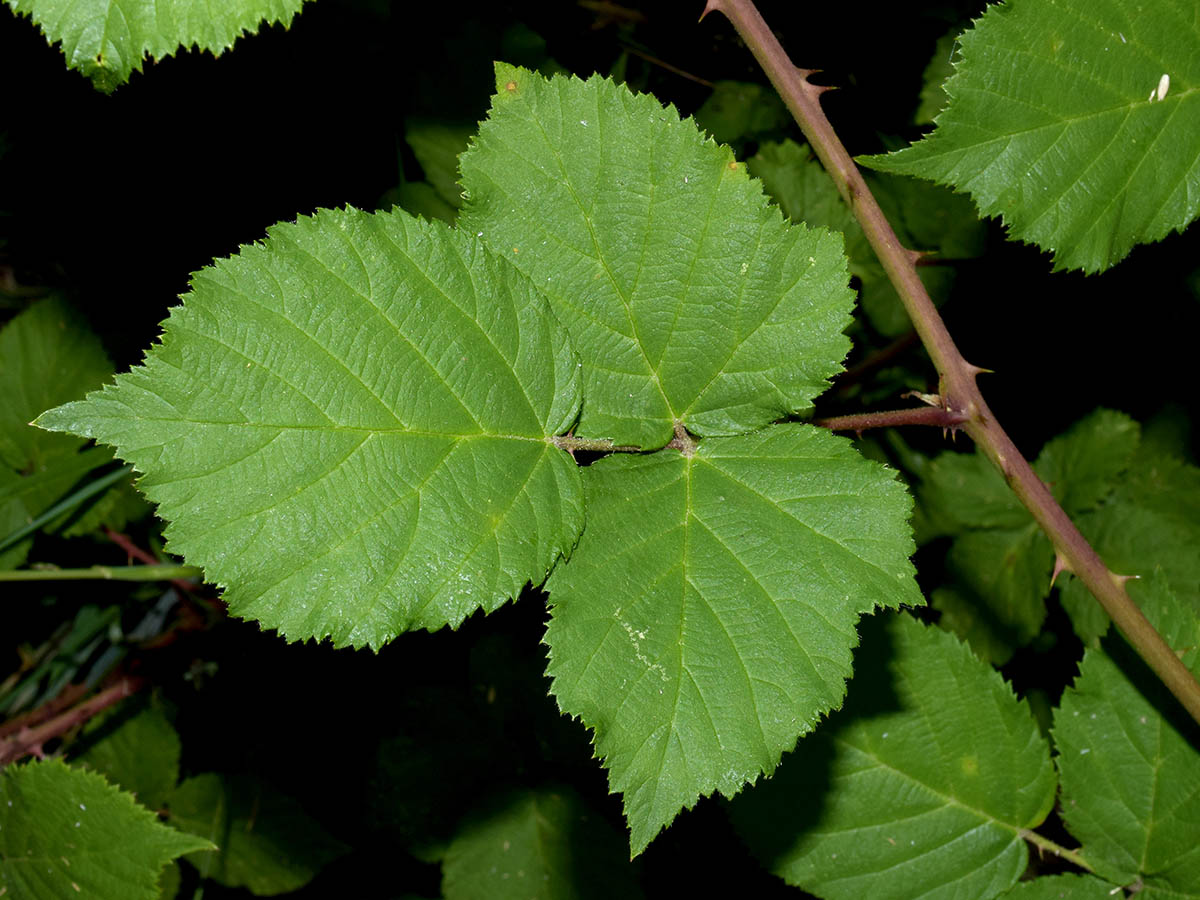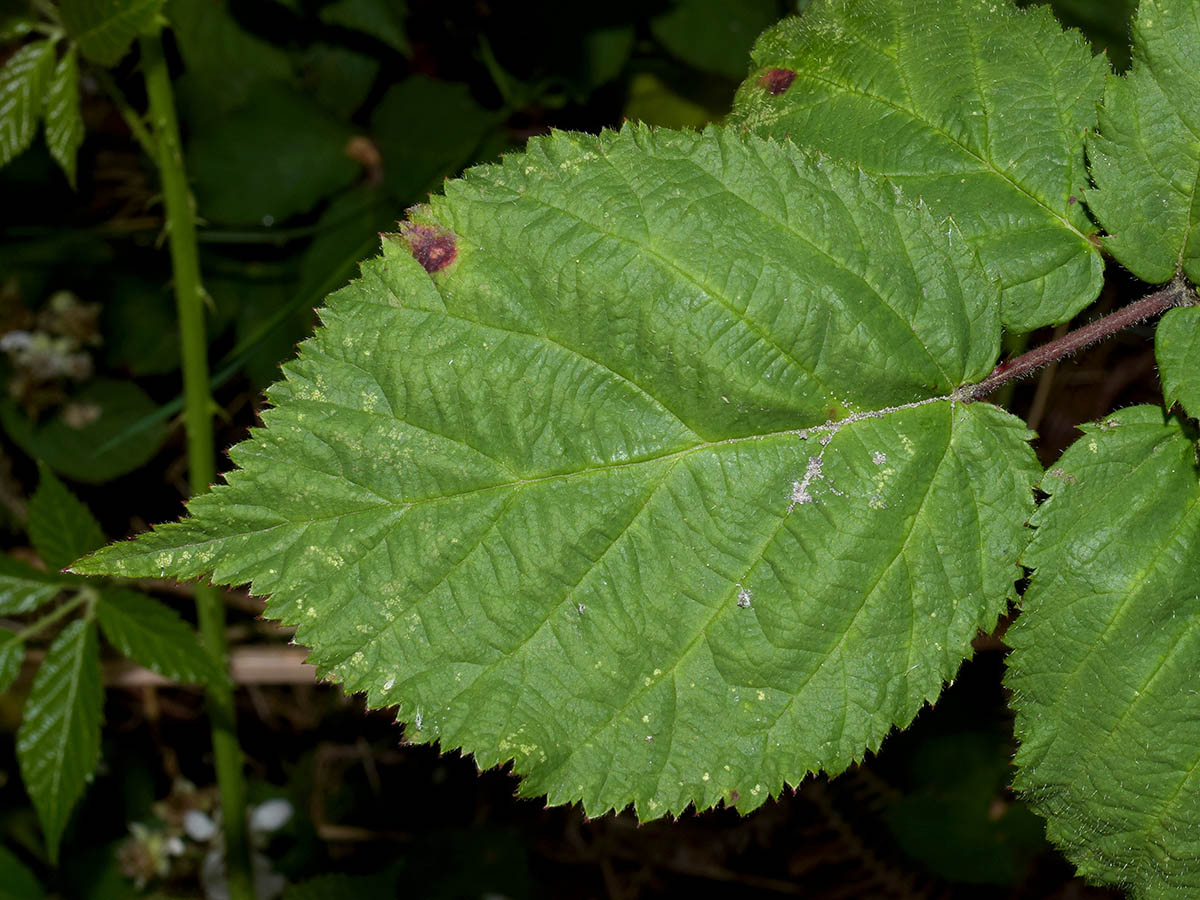 Leaflets are sparsely to moderately hairy above and downy or thinly greenish-grey felted below.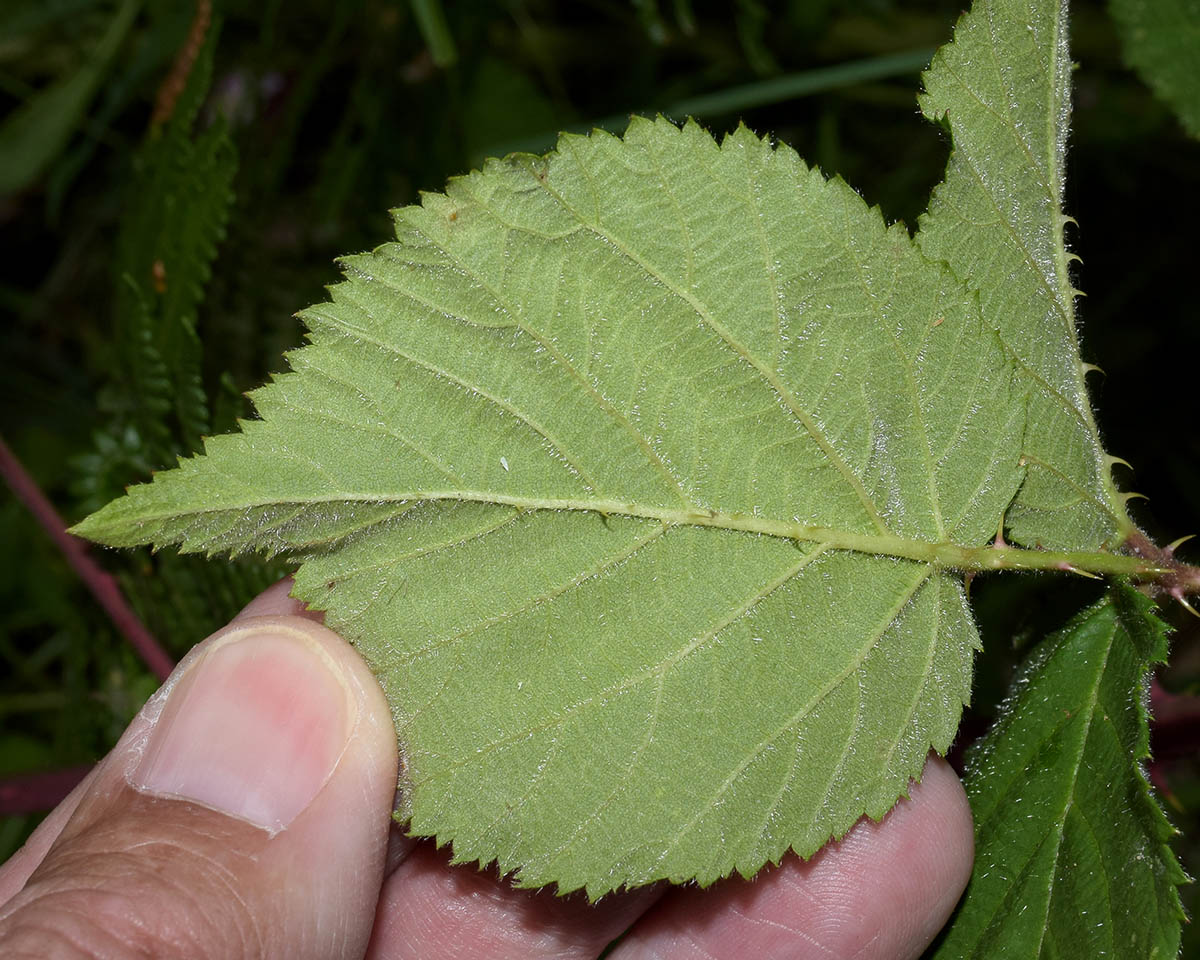 The stem is bluntly angled with flat or slightly furrowed sides, turning pinkish brown or reddish-purple in colour, sparsely hairy and glabrescent. Prickles may be slightly declining or curved, coloured the same as the stem, finely pointed with a yellow tip.