Rubus fuscicaulis – Series Radulae
back to Alphabetical index · Taxonomic index
This is one of a confusing group of glandular brambles with white-petalled flowers and red styles, and one of the those often referred to as the R. fuscus aggregate. Other similar species (not yet covered on this website) include R. trichodes, R. anglofuscus, R. largificus and R. murrayi. The true R. fuscus has pale pink petals. R. fuscicaulis typically has a short dense cylinder of flowers at the top of the panicle and broadly elliptical to obovate terminal leaflets. The photos shown here were taken of a small colony at Browndown Common, Hampshire so may not be fully representative. It is mainly known from the southern part of the Welsh/English border and north Somerset, with records also through Wiltshire, Hampshire and West Sussex. It is apparently also recorded in Ireland and Belgium.
R. fuscicaulis is a low-growing to medium-arching species with a rather compact, stoutly branched, short cylindrical inflorescence (above) when better developed. The rachis is flexouse (i.e. somewhat zigzag), green or turning reddish, densely pubescent and with numerous short glands and acicles, and some slender prickles.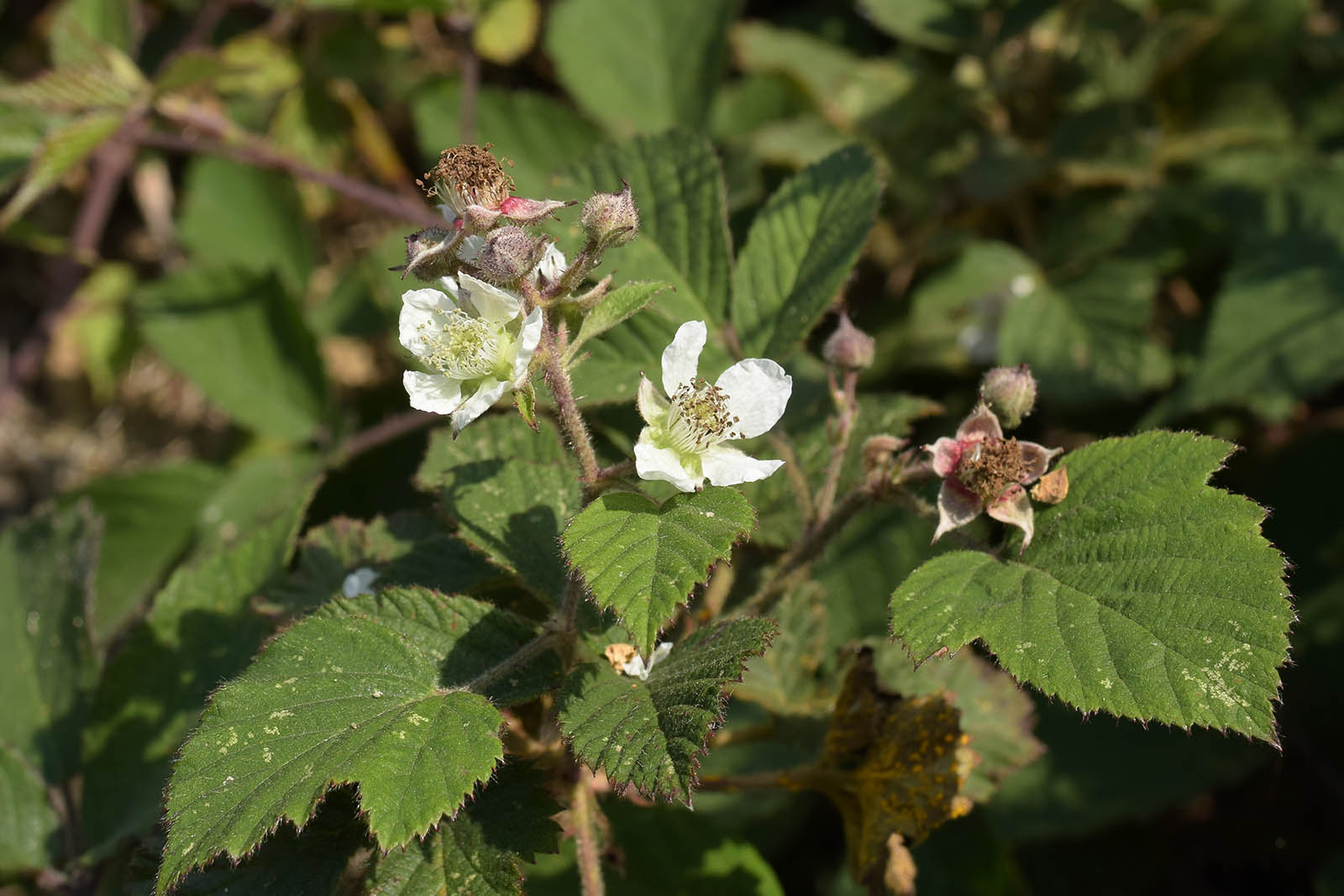 Flowers are about 2cm (-2.5cm) diameter with broad white petals, 11 x 8mm (or sometimes smaller); styles are clearly red-based; the stamens are distinctly longer than the styles (though published descriptions state they can be level to slightly longer); the anthers are glabrous; carpels and receptacle hairy. Sepals are felted on both sides, indistinctly white bordered on the outside, with red glands and acicles, and are long-pointed with elongate (aculeolate), sometimes leafy tips. In this colony the sepals were loosely reflexed to patent after flowering, and turned bright red at the base inside.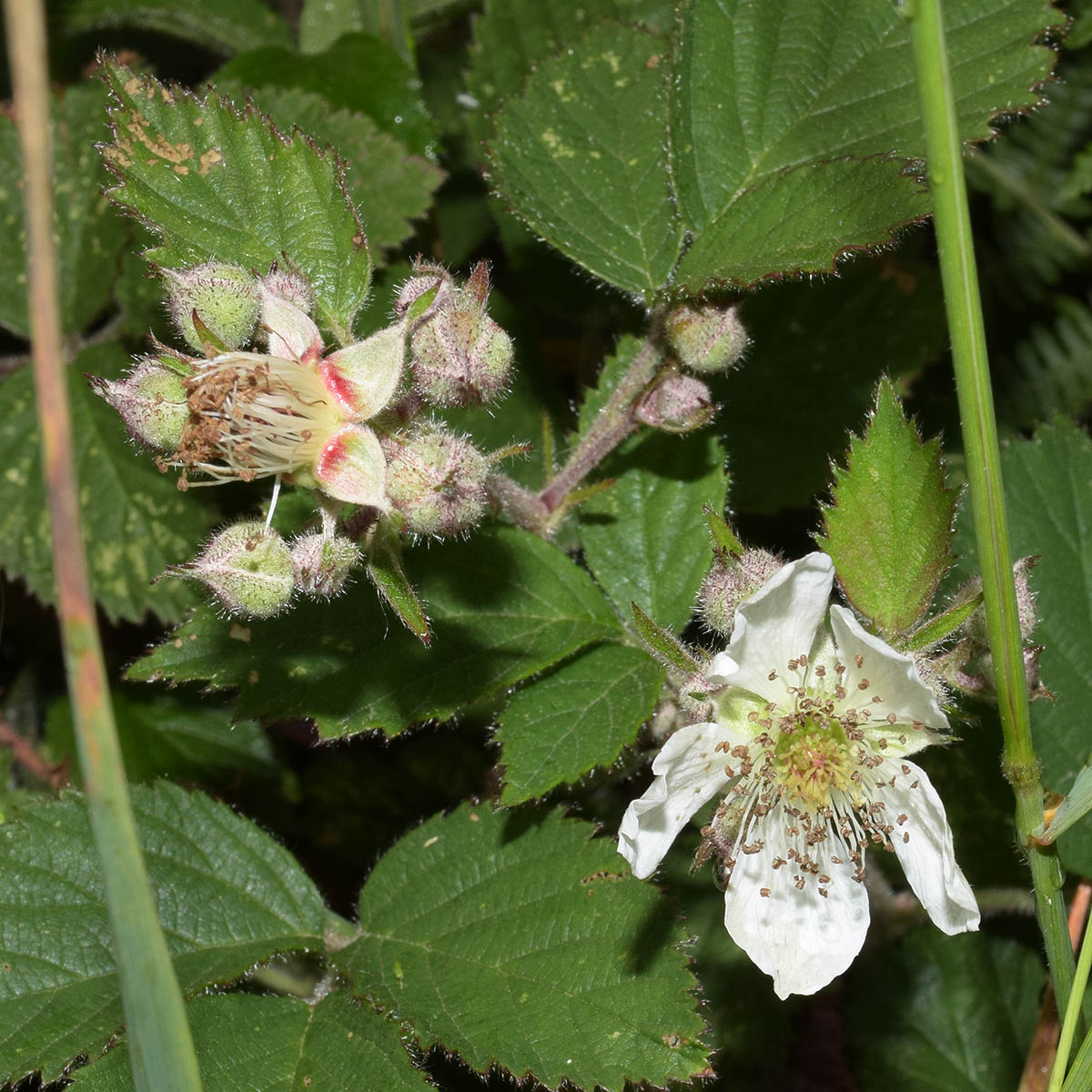 Leaves are mid green in colour, somewhat matt in appearance, sparsely hairy above (with a rough feel), flat, with sharply serrate, slightly undulate margins. Leaflets typically three, but sometimes five, or three with the basal ones fused to the laterals; not contiguous when in threes.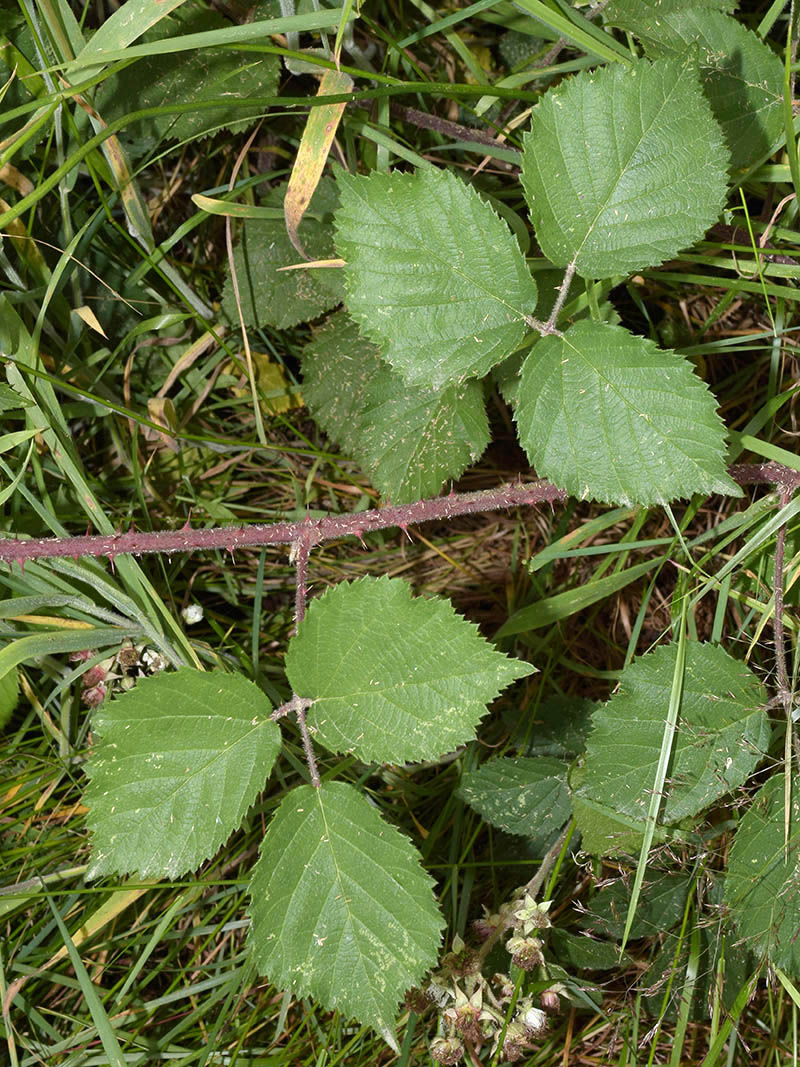 The terminal leaflet is about 8 x 5cm, broadly elliptical or slightly more obovate than those pictured below, with an emarginate to sub-entire base.
The dark reddish-brown colouration on younger leaves is a distinctive feature of R. fuscicaulis. The leaf in this photo has a more typical shape of the leaflet tips, i.e. relatively long and acuminate-cuspidate; note that they are also curved to one side (a feature seen in many species, but which could be a useful character to help identify this species).
Leaflets are softly hairy and paler green below, but not strongly felted.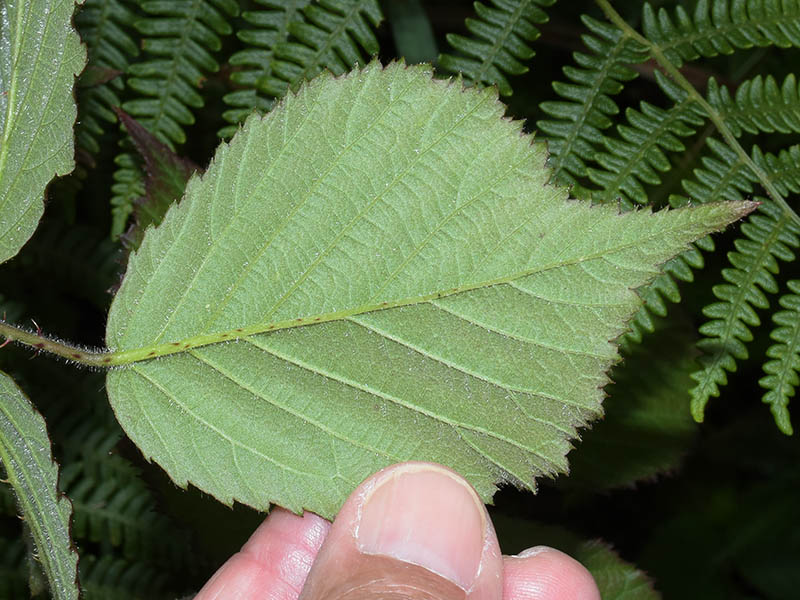 The bluntly angled stem is dark red to deep purple with fairly slender main prickles on the angles. These vary from shorter to slightly longer than the stem diameter and are almost patent to declining. On the faces there are scattered smaller pricklets and acicles. The stem is densely pubescent, with hairs roughly 1mm long and abundant short glands (i.e. gland-tipped acicles), which are mostly about the same length as or a little shorter than the hairs.