Rubus chloophyllus – Series Sylvatici
back to Alphabetical index · Taxonomic index
This species is restricted to parts of Sussex, Surrey and west Kent and is also found in France. It grows in open situations on heathland as well as shady woodland. The large flowers with pink petals and long stamens are the most eye-catching feature. It is placed in the Sylvatici due to total absence of stalked glands, but the simply-branched few-flowered inflorescence is rather like that of section Rubus species.
Flowers are about 2.5-3cm diameter, with long, broadly elliptical to obovate, pale pink petals and long stamens, which usually have some scattered hairs on the anthers (not visible in these photos). The photos here (taken at four different localities) all seem to show petals being rather crumpled and fragile-looking in appearance.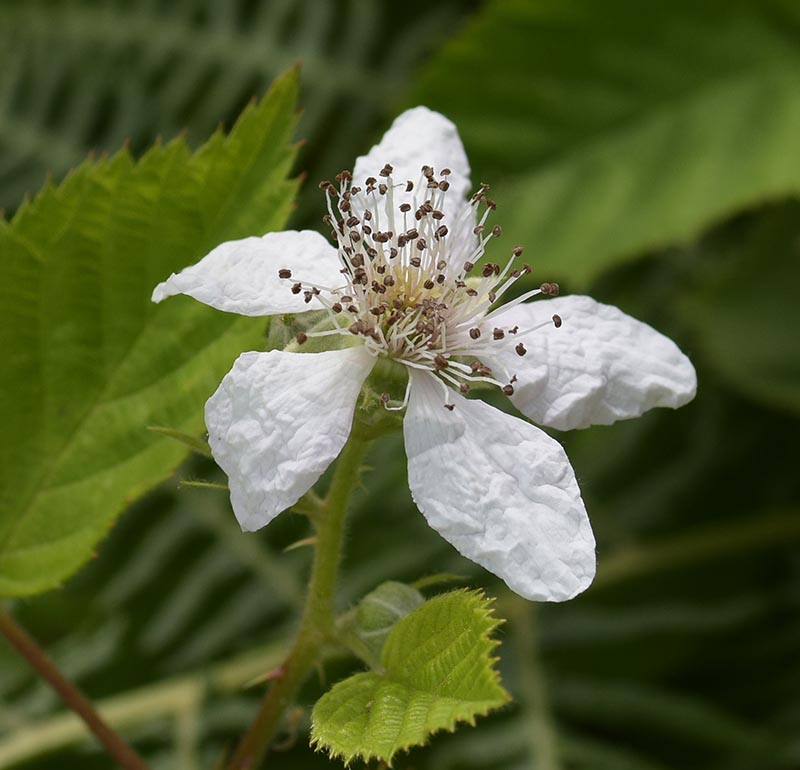 A feature mentioned in Brambles of the British Isles is that the terminal flower is over-topped by the surrounding ones, due to their longer pedicels, though this is not particularly obvious in these photos.
Sepals are thinly white-bordered, patent (pointing outwards) in fresh flowers, but becoming erect as the fruit starts to develop. They have fine, sharp tips, referred to as being aculeolate in botanical terminology. The rachis and floral branches have a few, long, slightly curved prickles with narrow bases. This is an important distinction from the somewhat similar R. nobilissimus (section Rubus), which has shorter, broader based, often hooked prickles in the panicle (both species have pink flowers with hairy anthers and white-edged sepals).
Styles are pale green.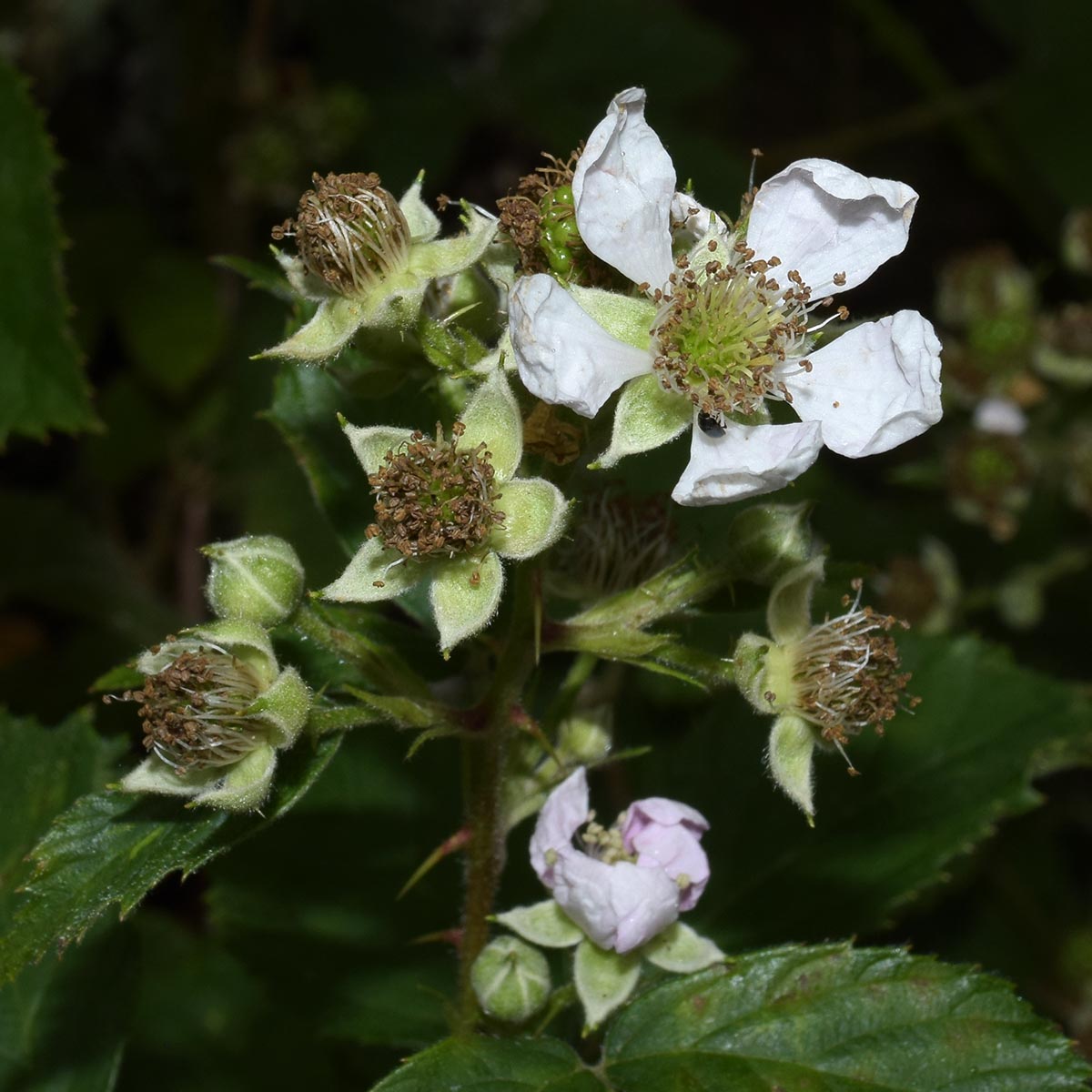 The habit of the plant varies according to situation. In open heathland it forms small, low growing patches with procumbent stems which may root at the tip. In woodland it sends up tall, erect shoots.
Leaves have 5 leaflets. These are mid green and sparsely hairy above but often yellowish green in strong sun and become strongly pleated. The terminal leaflet is typically about 8cm long, ovate to elliptical in shape, moderately to strongly serrate or incised, with a long, gradually narrowed (acuminate) tip and a cordate base. W.R. Watson aptly described the leaf margin as jagged in Rubi of Great Britain and Ireland, though Edees and Newton simply note it as being more or less evenly serrate and flat, which is clearly incorrect. Another character apparent in the photographs here is the presence of about 3-5 prominent teeth on each side, some of which are retrorse (point backwards towards the base). This is typical of many other species, including other Sylvatici, but it is another useful character helping to distinguish this species from pink-flowered section Rubus species.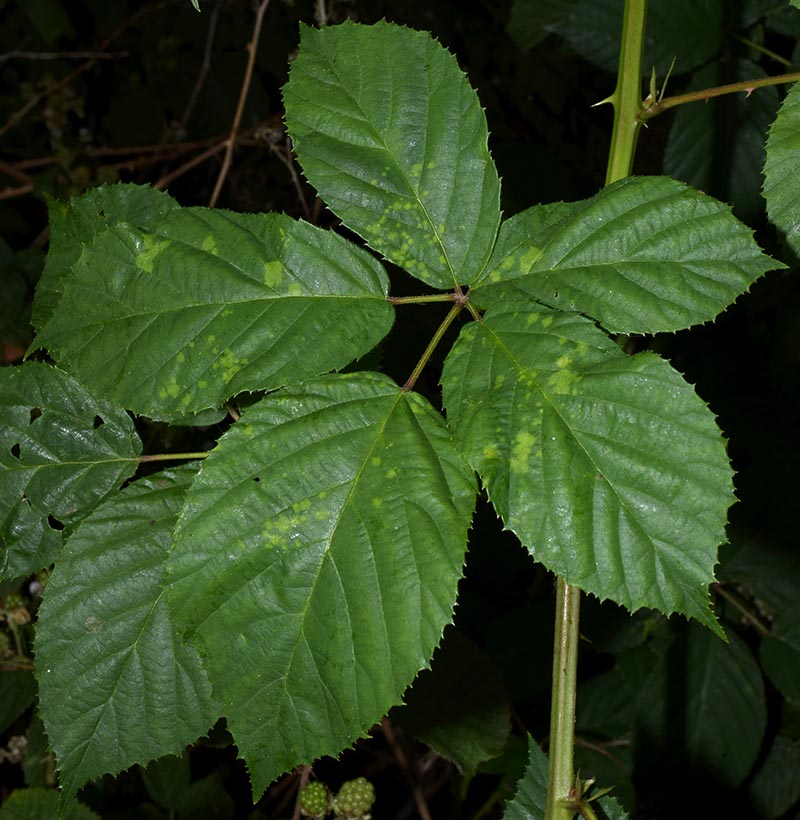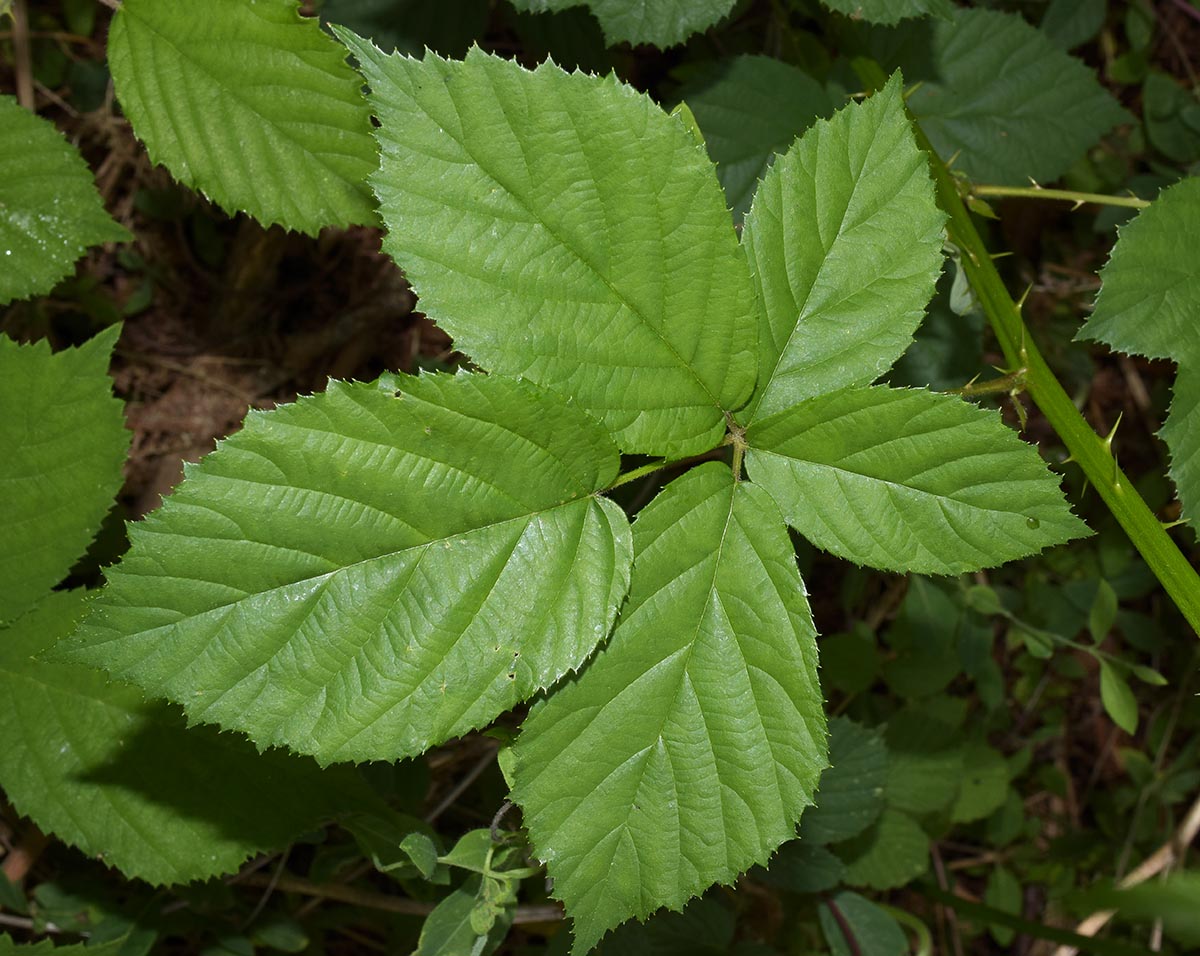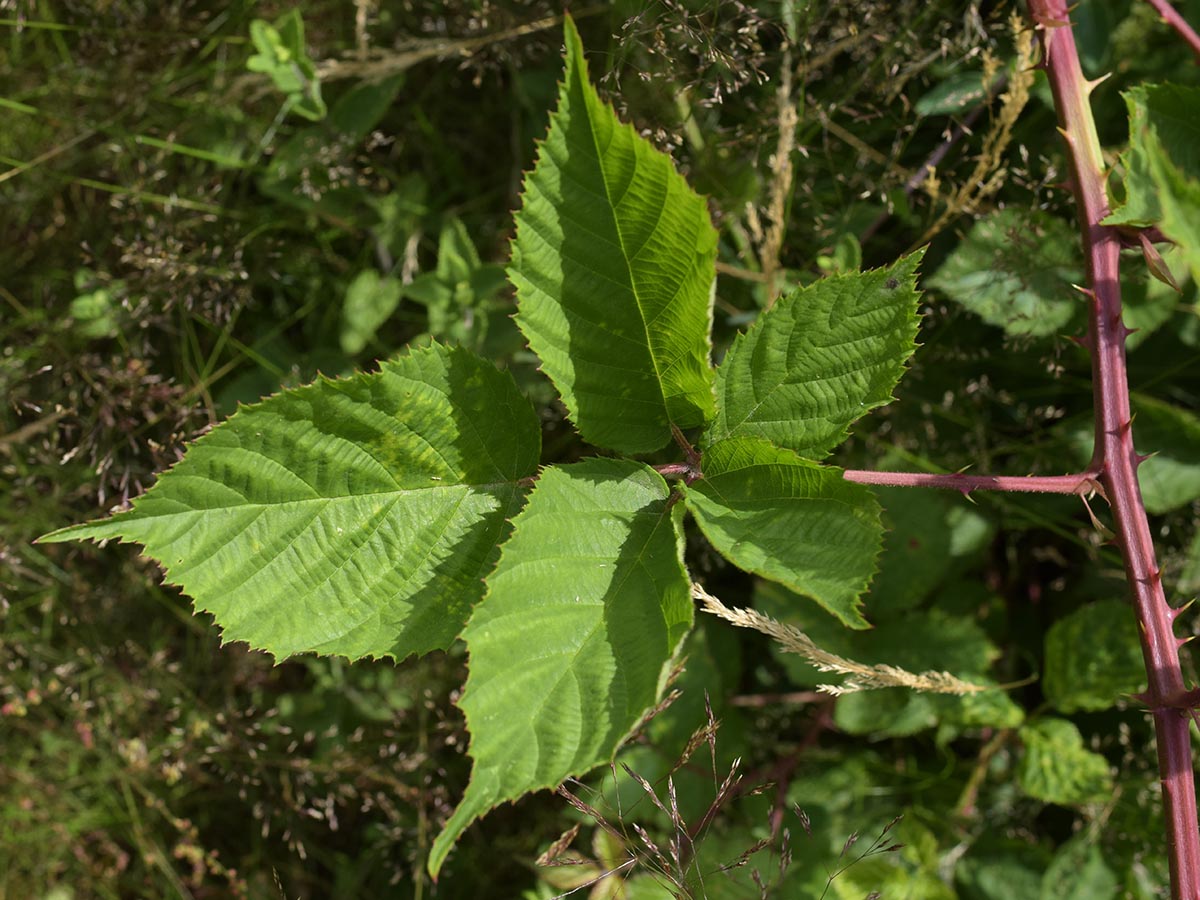 The leaflet underside is thinly or strongly pubescent but green or pale green in colour.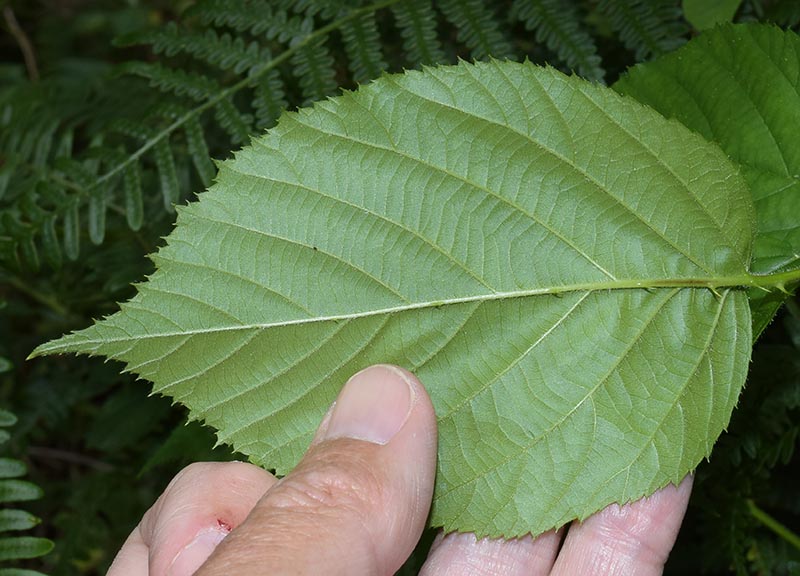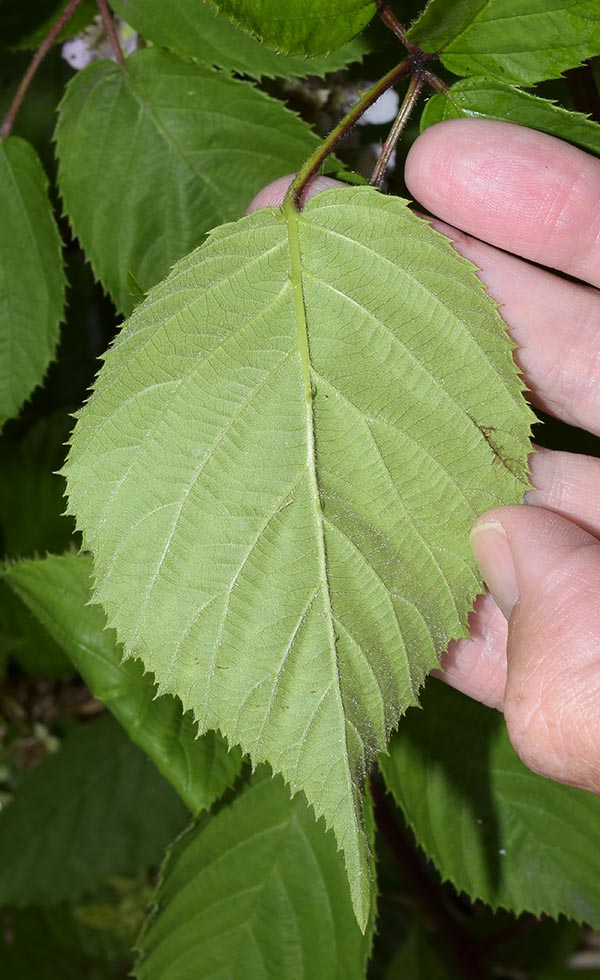 The deeply furrowed stems are green in the shade, brownish-red in the sun. They are generally rather slender, glabrous or very sparsely hairy with moderately frequent patent to slightly declining prickles.