Rubus averyanus – Series Sylvatici
back to Alphabetical index · Taxonomic index
This is a rare, regional endemic species, recorded only from East Sussex, Surrey and West Kent vice-counties in the UK. These photographs were taken of a single population at Ditchling Common, near Burgess Hill in East Sussex during a BSBI brambles meeting in July 2015. The main distinguishing features are the pink petals, yellow-green foliage, densely hairy and well-armed rachis and the ridged stems with some long, curved prickles. The plant is completely eglandular (stalked glands absent), so is straightforwardly placed in the Sylvatici.
The panicle (above) has a compact cluster of flowers at the apex, on divergent to patent peduncles, with 3-foliate leaves lower down and sometimes a single leaflet below the flowers. There are often one or two long ascending lower branches.
The rachis is slightly flexuose, densely hairy, with numerous long yellow prickles with red bases. The prickles are strongly downturned and vary from nearly straight to distinctly curved.
Flowers are relatively large, about 2.5cm across, with lilac-pink, broadly elliptical to slightly obovate petals, 13 x 8mm. Some of those at the Ditchling site appeared to be slightly notched. Note that as with many pink-flowered brambles, the colour is best seen in the buds and freshly-opened flowers, and fades to nearly white in the sun. Stamens exceed the styles and the filaments are usually tinged pink, especially at the base. Styles are pale yellow, also sometimes pink-based. The receptacle is pilose.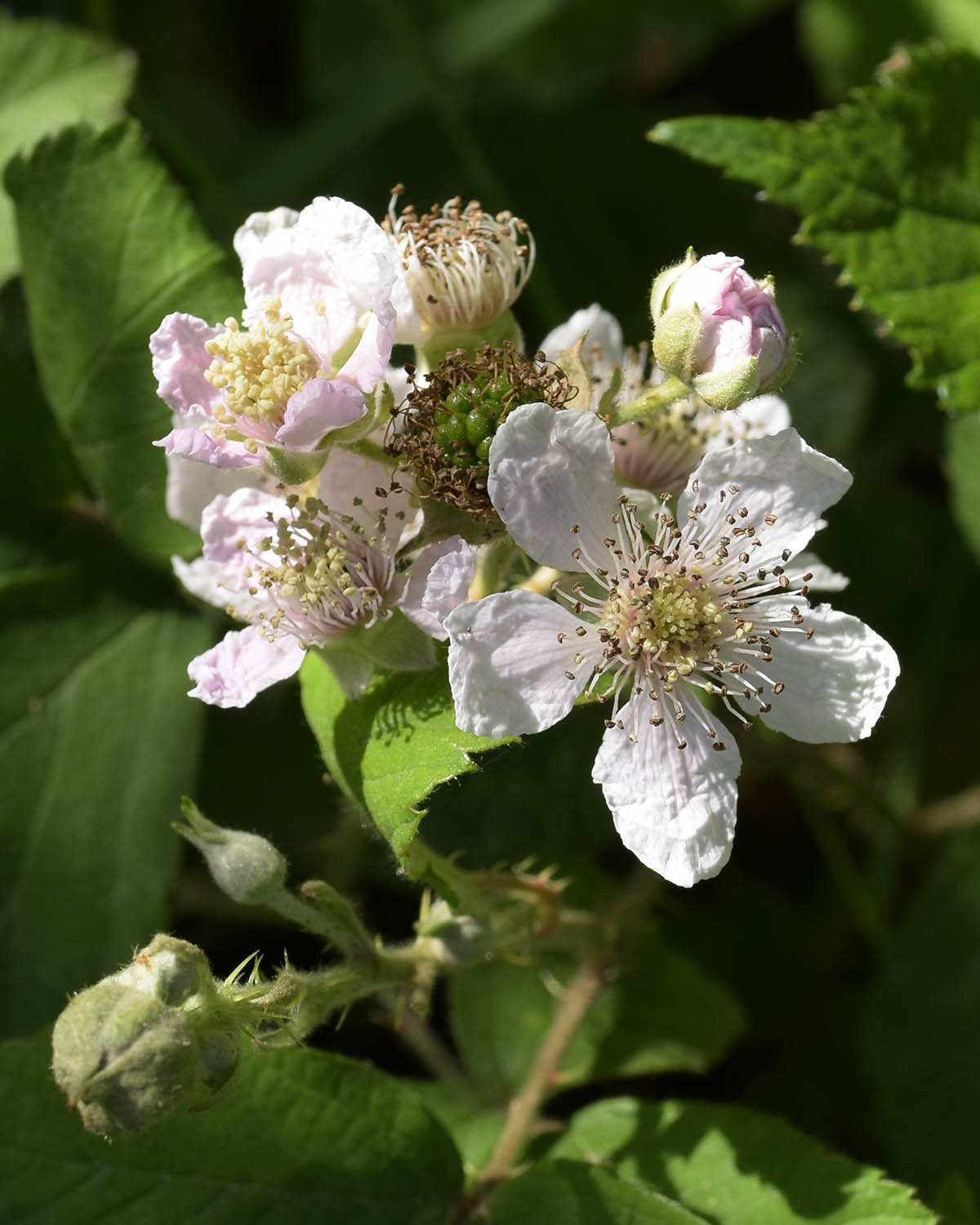 One flower examined had hairy anthers, but usually the anthers are glabrous in this species.
Sepals are broadly ovate and concave, with medium-long pointed tips. They are patent after flowering (initially reflexed), revealing a red base inside.
Leaves on the stem and panicle are a pale, yellow-green colour (the first photo below has a greyish appearance due to dust). The upperside of the leaflets is glabrous to shortly pubescent and the veins are only shallowly impressed, giving a smooth appearance. The toothing is quite shallow and often irregular, giving rise to only a slightly undulate margin. The terminal leaflet is broadly obovate, with a cuspidate-acuminate apex and an emarginate to subcordate base, about 8-9 x 6-7cm. Leaflets exposed to the sun may become convex.
Leaflets are pale green and thinly pubescent below.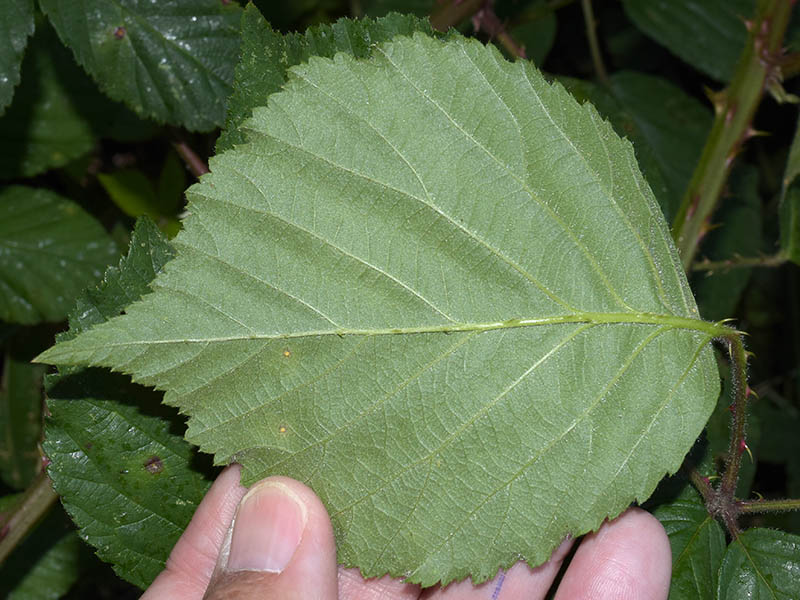 The first-year stem is strongly ridged, with deep furrows, initially green but becoming reddish brown or dark maroon on older stems exposed to the sun. Prickles are yellow, straight, gently curved or somewhat kinked and falcate, slender and finely pointed, with a long red base. They are fairly numerous and often paired up, usually about as long as the width of the stem, but some usually distinctly longer. Stems are moderately pubescent (especially when young) and have sessile glands.