Rubus platyacanthus – Series Sylvatici
back to Alphabetical index · Taxonomic index
This is a widespread but declining species of heathlands and wood margins, which perhaps prefers damper soils. Its flowers are not particularly distinctive, having white petals with long stamens, so similar to many other species. However, combined with the finely pointed sepals, which splay out at right angles, and the leaf and stem features described below, the species can be fairly easily recognised. This is a true Sylvatican: there are no stalked glands anywhere on the plant and the leaves are not grey or white felted below.
The styles are pale, whitish yellow. The photos below show a plant thought to be this species growing in shade in willow carr at the southern edge of Browndown Common in Gosport (newly discovered here in July 2015 – the most recent addition to the Rubus flora of my borough). The petals are distinctly pale pink – a colour form not mentioned in Brambles of the British Isles by Edees & Newton.
The terminal leaflet is ovate to broadly elliptical with a poorly differentiated apex. The margins are irregularly sharply toothed. There are often only three leaflets, or sometimes three with two budding ones, or five separate leaflets. Note that the basal leaflets in the bottom photo below are almost sessile (have a short stalk) causing them to slightly overlap the lateral leaflets.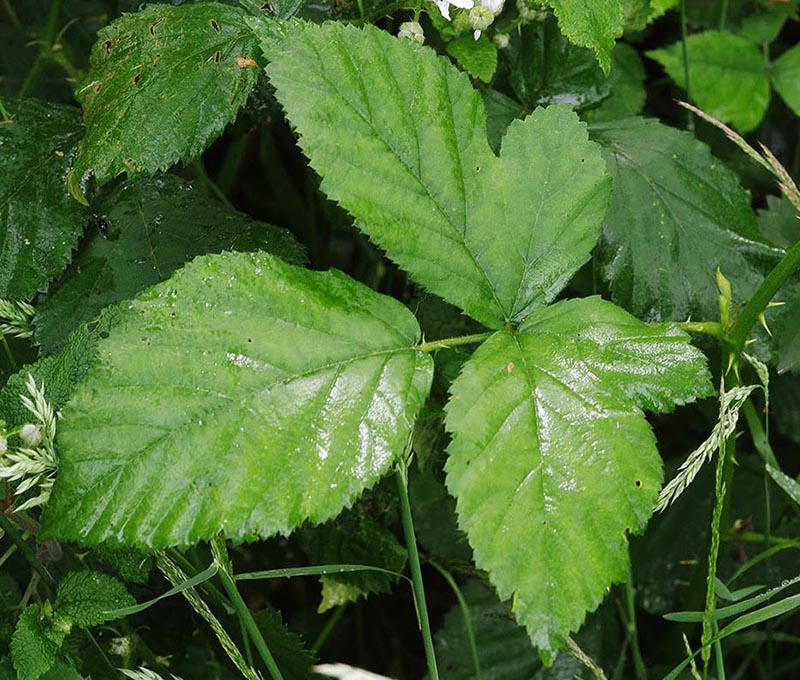 The leaf underside is pubescent at first, becoming thinly hairy or nearly glabrous, giving a pale green appearance. The photos below show plants from open heathland (more thickly pubescent) and shady woodland (nearly glabrous except on the veins).
Stems often grow completely erect and are usually bright yellowish green (brownish in full sun). Well developed ones are almost glabrous and shining and have striking yellowish prickles which mostly stick out perpendicularly. Some of the prickles are even slightly curved upwards at the tip. They are somewhat flattened as the scientific name implies. The pale green striations on the stem seem to be more noticeable on this species than on most other brambles.
Below: slightly hairier stem from a Gosport plant growing in shade. As noted above ID not yet fully confirmed, but it seems to have the right sort of prickles.