Rubus dasyphyllus – Series Hystrices
back to Alphabetical index · Taxonomic index
The 2004 Rubus atlas remarks that this is one of the top three brambles for ubiquity in Britain. It is widespread and locally common throughout much of England and Wales, but is absent from the Scottish Highlands, the Cambridgeshire fens and dry parts of south-west and south-east England. In many places it is the commonest and most abundant species, occurring in acidic woodlands, hedgerows and moorland. It can be identified by its narrow pink petals, hairy glandular stem with fine prickles and large broad leaflets with well-marked veins and retrorse main teeth.
The panicle is not strongly developed in this species. There is a terminal cluster of usually fewer than about 15 flowers. These are about 2.5cm diameter with petals (8)10-12(15) x 5-6mm and often pointed. The petal colour varies from pale, slightly yellowish pink to bright rose pink. The rachis is hairy and strongly glandular like the stem, with numerous fine prickles and acicles.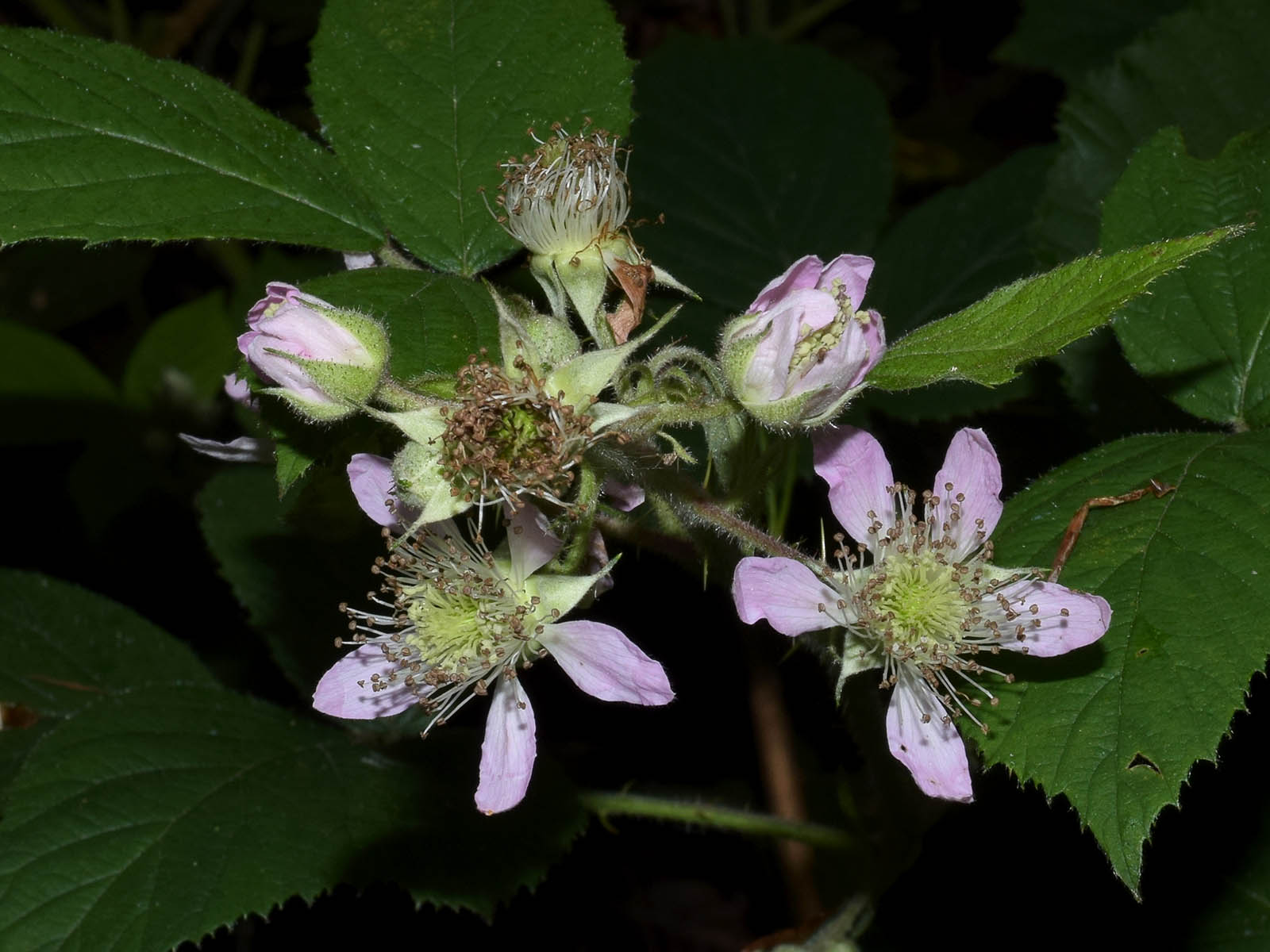 The sepals are long-pointed, patent at flowering with ascending tips, but become reflexed when the petals drop, and turn red at the base inside.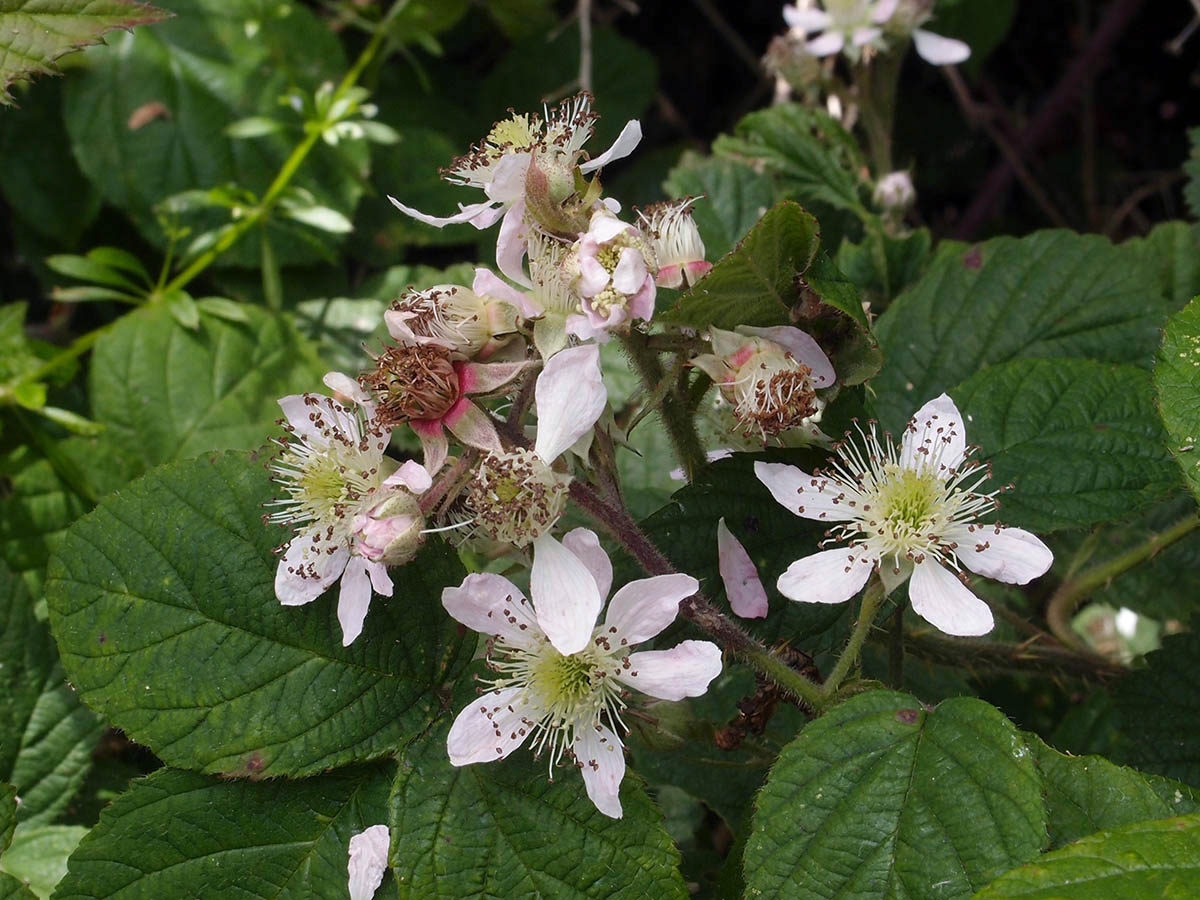 Stamens are a little longer than the styles, but splay out quite widely, so that the yellowish-green styles are quite visible.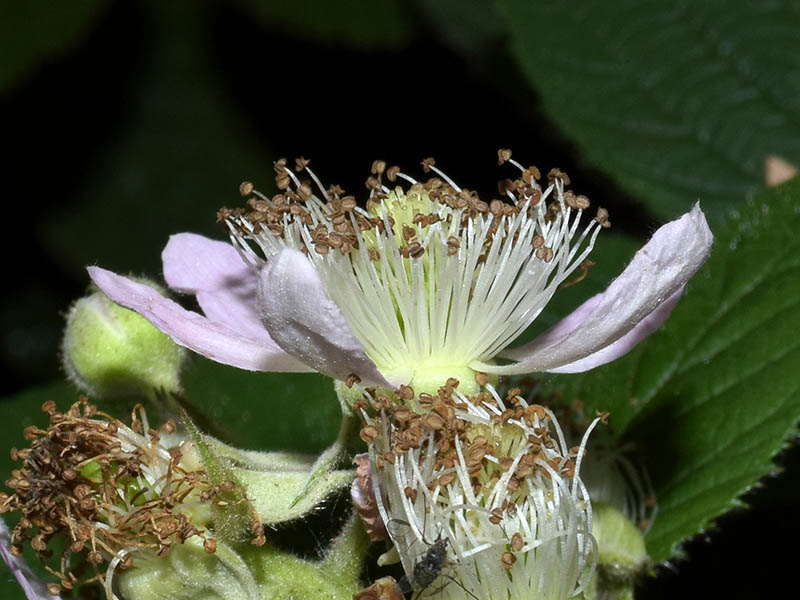 The leaves become very large when shade-grown; the terminal leaflet typically reaching c.10 x 7cm. It is broadly elliptical to obovate in shape with an emarginate base. The tip can be relatively long and sometimes curved to the side. The better-developed leaves have 5 leaflets, but quite often the basal and lateral leaflets are fused together on one or both sides. The leaflets can be more or less flat to slightly convex and typically with prominent secondary veins, giving a slightly plicate appearance, often also with the minor veins well-marked. The margins are rather coarsely serrate with sharp teeth. The principle teeth typically curve outwards or downwards towards the base of the leaflet (retrorse).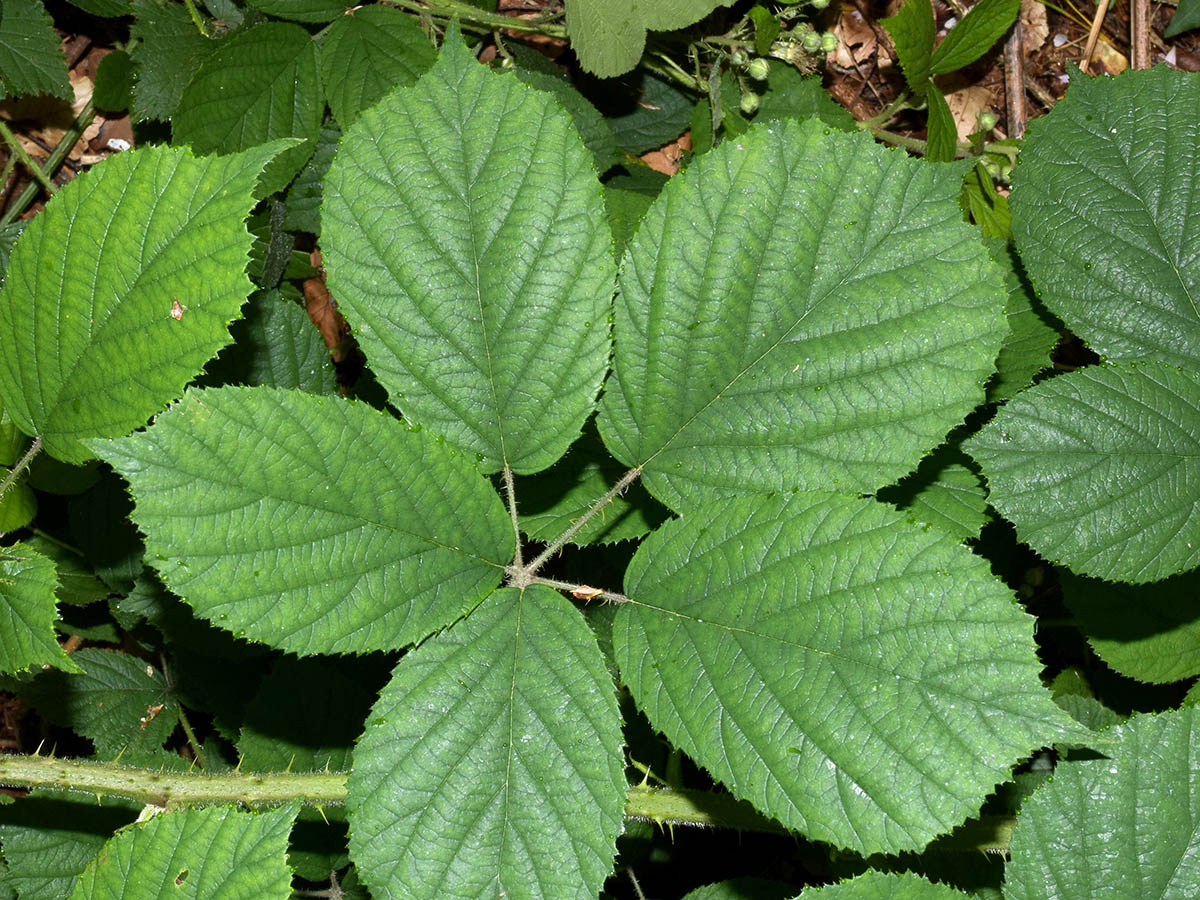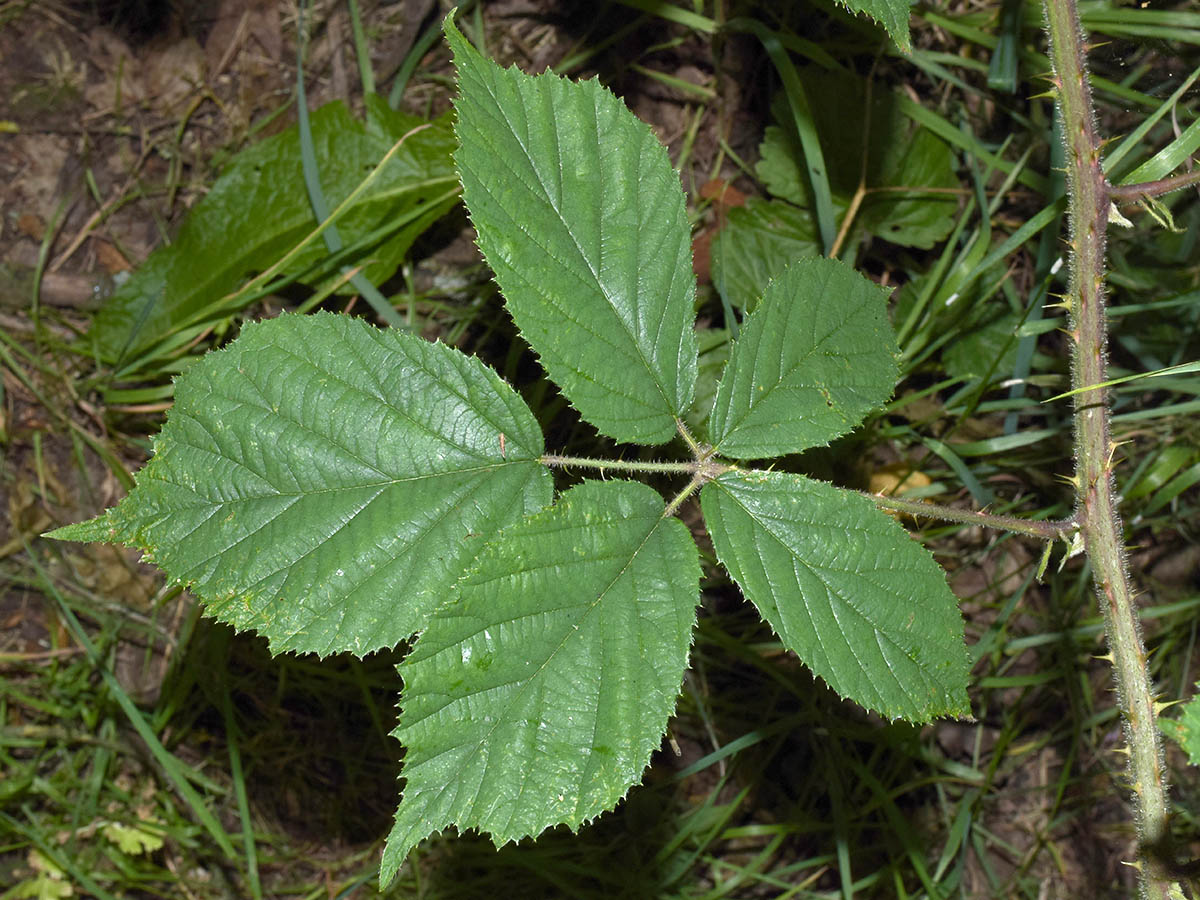 Young leaves and those growing in more open conditions are a distinctive yellow-green colour with a reddish tinge, and the surface texture is more pronounced.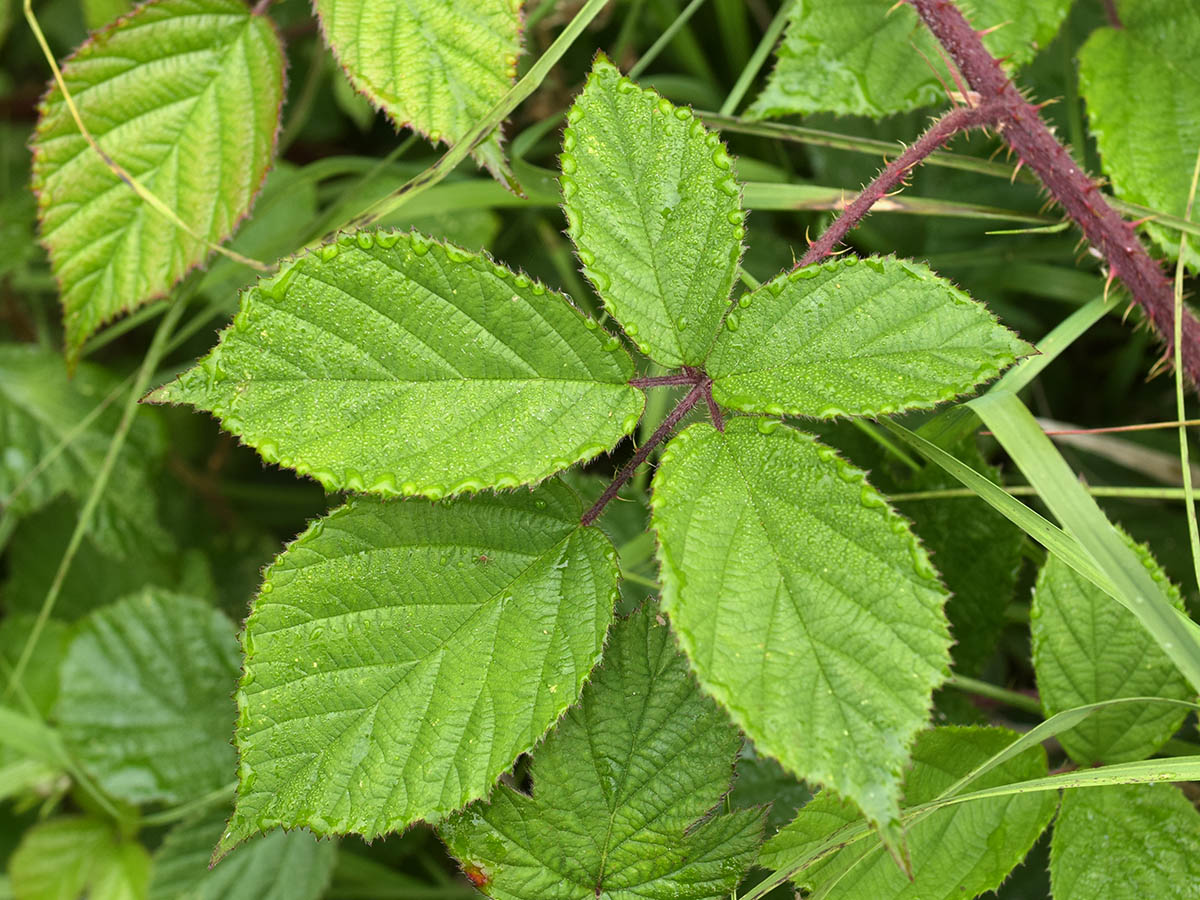 Leaflets are pale greenish felted below, both in the shade and open situations.
The first-year stem is green in the shade or becoming deep brownish or reddish-purple in the sun; it is bluntly angled with usually flat sides, but sometimes with prominent furrows. The main prickles on the angles are long and fine (subulate), with a moderately long base, straight and downturned to gently curved; tipped straw-yellow. Many smaller pricklets of varying sizes occur on the faces. The stem is also strongly hairy and has numerous short-stalked and occasional long-stalked glands and gland-tipped acicles.